Any time of the year is a great time for a lakecation, but the Finger Lakes in June is especially magical. The combination of exciting festivals and events combined with fun activities and gorgeous weather makes this time of year a magical potion made for success! For a handy guide to all of the best year-round attractions, make sure to request access to your own Vacation Guide to the Finger Lakes region. Our guide includes our favorite local restaurants, shops, outdoor recreation, and scenic areas so that you have access to local insight when putting together your trip itinerary.


Your Ultimate Guide to the Finger Lakes in June
Finger Lakes Weather in June
Kick Off Summer With Great Weather
You need to visit the Finger Lakes region in June because the weather is perfect! During the day, you can expect temperatures to hover just below 80 degrees Fahrenheit. This is ideal weather for all your outdoor adventures.
Activities You Should Do in June
Outdoor Recreation
The Finger Lakes part of New York state is known for being an outdoorsman's paradise! The lakes offer a variety of state parks to explore. Watkins Glen State Park, Letchworth State Park, Taughannock Falls State Park, and Keuka Lake State Park are just a few that you can choose from among at least 25 state parks in the area!
Each of these parks offers gorgeous scenery, a bit of history, and a ton of fun with hiking trails, biking trails, waterfalls, picnic areas, and swimming areas!
Finger Lakes Wine Trails
Taste local wines when you explore the different Finger Lakes Wine Trails, including Seneca Lake Wine Trail, Canandaigua Wine Trail, and Cayuga Lake Wine Trail! Travel the perimeters of the lakes, trying as many wines as you can! There's a large selection of tasting rooms and vineyards all throughout the Finger Lakes, and you could plan a whole trip around wine tastings!
Where to Stay in June
The best place to stay in the Finger Lakes this summer is with Finger Lakes Premier Properties. Stay in a large vacation rental on a lake for the perfect FLX vacation in June! Our rentals offer top-notch amenities, like panoramic lake views, docks, complimentary kayaks and canoes, fire pits, game rooms, and much more! Plus, they're close to the best attractions in the area so you can easily explore the state parks, shopping centers, restaurants, museums, and wineries.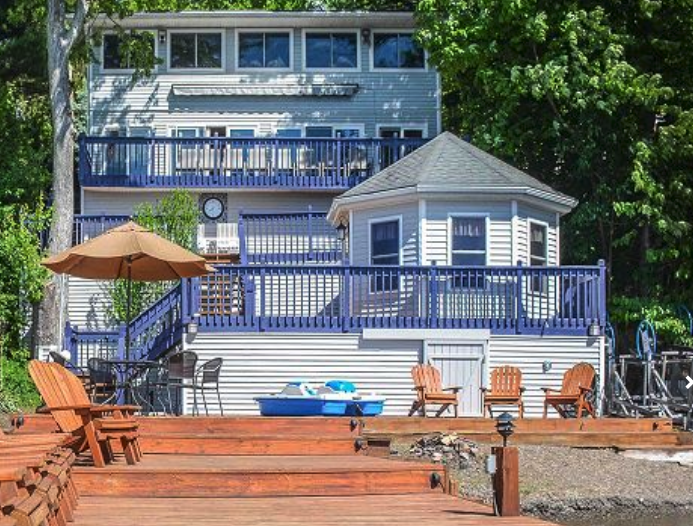 Summer Memories is a great place for you and your family to stay as it features seven bedrooms and six-and-a-half baths! You're sure to create the best memories here when you hang out in the air-conditioned gazebo, head out on the water with the paddleboat, or grill out on the propane BBQ grill.
Check our availability, and book this dream home today!