Take to the air during your next trip to the Finger Lakes! Bring your family and learn about the region's history and culture. The Glenn H. Curtiss Museum commemorates Curtiss's contribution to innovations in transportation and is one of the most prominent aviation museums in the country. For more great tips on how to spend your vacation in the Finger Lakes, download our free vacation guide today!
About the Glenn H. Curtiss Museum
Glenn Curtiss, an aviation and motorcycle pioneer, was instrumental in founding the U.S. aircraft industry. Curtiss started his career by racing and building motorcycles. He was crowned "Fastest Man on Earth" in 1907 when his V8 powered motorcycle clocked in at 136.3 mph. Curtiss eventually began building his own aircraft and has been credited with making the "seaplane" a practical reality. The Glenn H. Curtiss Museum in Hammondsport, New York, is a celebration of his genius and creativity.
The museum highlights more than just Curtiss's successes as an engineer of transportation. It also features home furnishings, toys, fire equipment, boats, and antique tools authentic to his time. Come learn about transportation and history at one of the best museums in the Finger Lakes today!
Exhibits for Everyone
One of the best things about the museum is that there's something that appeals to everyone. When you visit the Glenn H. Curtiss Museum, you'll find collections of vintage planes, motorcycles, boats, and bikes. There are also exhibits on Curtiss's legacy, Hammondsport's history, women in aviation, and winemaking in the Finger Lakes region. Everyone in your family will find something they love here!
Don't Miss Classic Motorcycle Day
Every year, visitors gather at the museum for this one-day-only event. Classic Motorcycle Day is perfect for motorcyclists and anyone interested in learning more about classic and vintage models. During the day, antique and classic motorcycles, as well as working antique engines, are displayed to the public.
Grab a souvenir at one of the motorcycle vendors or pick up some new gear. Connect with fellow motorcycle enthusiasts over a burger and fries from a food vendor. Dance along to the rockin' live music. There's something for everyone at Classic Motorcycle Day! Entrance to the event is free, and those who ride in on motorcycles receive a special museum admission rate of $5 for the day!
Book Your Stay at Finger Lakes Properties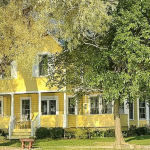 Now that you've planned a wonderful day at the Glenn H Curtiss Museum in the Finger Lakes, it's time to book your perfect vacation rental at Finger Lakes Premier Properties. Our extensive selection of rental homes ensures that there's a home to fit everyone's needs. If you're bringing your family to the Finger Lakes region, you won't find a better array of rentals anywhere else.
To get the most of your vacation, book a stay at Heart's Desire. This Canandaigua cottage features a charming porch overlooking the lake. Fully equipped with linens and entertainment for the entire family, this is the ideal cottage for a Finger Lakes getaway. End your day by the waterfront fire pit, toasting marshmallows and spending quality time with your loved ones.
Don't wait any longer! Check our availability and book today!