For Real Estate trends, 2018 was quite a year for waterfront homes in the Finger Lakes. As you can see from the chart below, many lakefronts saw a decrease in the number of homes sold, average sale prices, and overall volume sold. However, looking at the days on market, we can see the complete story.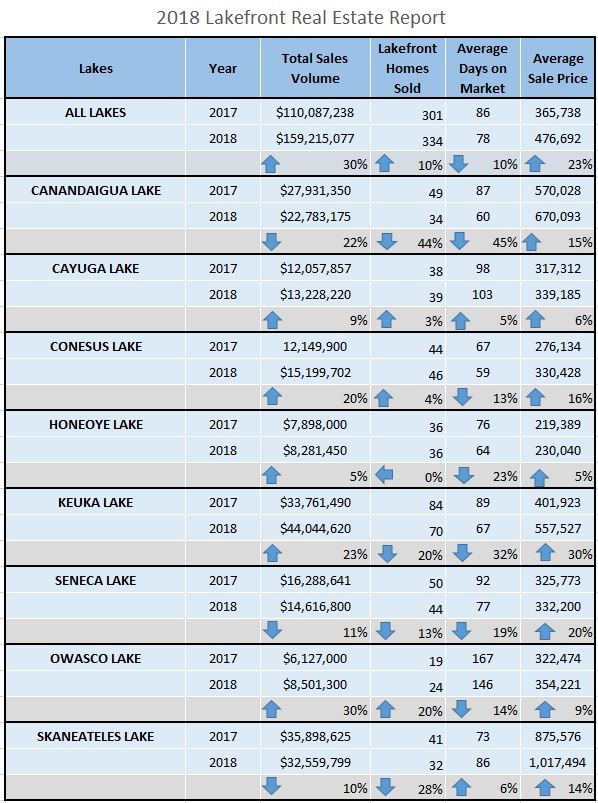 The overall lakefront market has seen an increase in buyer's self-education of the market conditions. Many can recognize an overpriced listing and will wait for another appropriately priced home, rather than making a low offer. So we have seen new listings entering the market sell quickly, typically in under 2 weeks time. For example, 12 of the homes we listed for sale in 2018 sold in less than 10 days. Another 4 sold in less than 2 weeks.
The market is not down because of disinterested buyers. It is down because there were not enough homeowners wanting to sell in 2018. This has created a seller's market here in the Finger Lakes. Owners are seeing full price or more on the offers for their homes. This is true for those that are priced appropriately for the market. These market conditions exist even on lakes such as Honeoye or Conesus. Though there was little change in the average sale prices on these lakes, there were large decreases in their average days on market.
In these conditions, now is a great time to sell your lakefront home to get the most money in the shortest amount of time. There remains a large pool of potential buyers looking for the perfect lakefront home in our region. Especially as the Finger Lakes grows as a popular vacation destination. Despite spring being seen as the popular time for real estate transactions, with limited competition, new listings are getting optimal exposure and quick turnover in this first quarter.
For more information about lakefront trends, contact our Real Estate team today at 833-311-5575 or email us at sales@FLPPlake.com.
Looking to buy a lakefront home or investment property in the Finger Lakes? Search our listings today!