The 2017 Finger Lakes Yearly Real Estate report has shown great promise for the clients of Finger Lakes Premier Properties.
Just look at the industry average listing days on market versus FLPP's:
Average: 86 days — FLPP: 18 days — That's 80% quicker than the market average!
"It looks like 2017 was quite a year. While many of the lakefronts saw a decrease in the number of homes sold, looking at days on the market can tell us the complete story."
– Cynthia Emerling, Real Estate Sales Manager at Finger Lakes Premier Properties
2017 YOY Real Estate Report across the FLX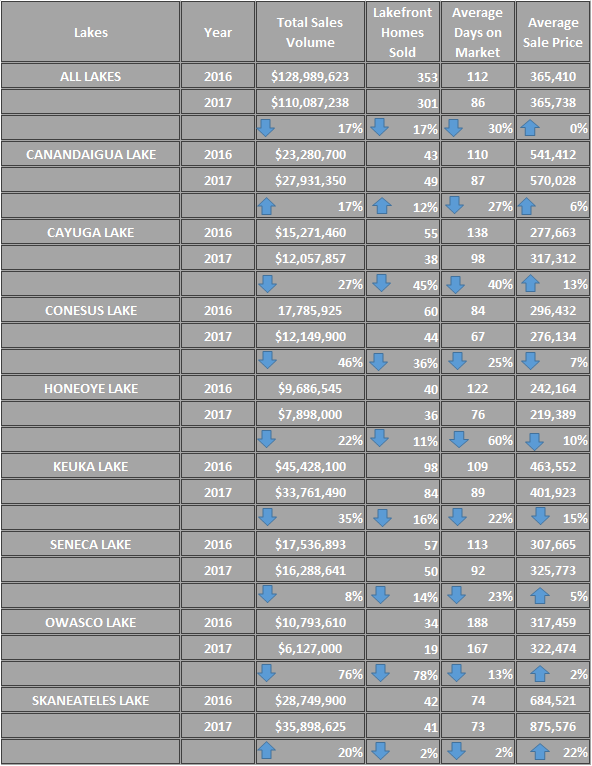 Indeed, while the overall lakefront homes sold has decreased across the FLX, FLPP's service and efficiency for its clients, has not.
To Emerling, this is much more important than the overall amount of homes sold:
"The client is our first priority. The listings will come as the market shifts, but without satisfied clients, we won't acquire new ones when that hot time hits."
Coupled with 100% Customer Satisfaction recorded the previous year, the FLPP team is quite pleased with how their customer relations efforts have aligned with the industries emphasis on client satisfaction.
Emerling also explains the ostensibly negative sales statistics as instead, missed opportunity:
"The market is not down because of disinterested buyers, it is down because there are not enough homeowners wanting to sell this year. In the process, owners are seeing the full price or more on offers coming in on their homes," Emerling Concludes.
So while the smaller market may be a potential downside to real estate companies in terms of overall listings, it is a huge advantage for owners that do decide to sell.
For more data on why you should list your home now, visit our listings blog here
In addition, to make sure all client's needs are met, FLPP has recently brought on a Marketing Real Estate Coordinator. The resource will help the real estate team capture new homes with aerial footage and apply 3D virtual technology, getting more people to tour homes and sell faster.
The resources are here, the market is your oyster. What are you waiting for?
To speak with our real estate department today, call now at   (877) 934-2845
Or click here to visit our real estate page!