---
Who said planning your elopement in the Finger Lakes can't be a blast? We are here to make the whole thing fun, easy, and affordable. Back in the day, an elopement was two people running off to city hall or driving to Vegas to tie the knot.
While those weddings still happen today, a modern elopement is a trendy and intimate wedding that's focused on you. You can choose to elope wherever you'd like, perhaps overlooking a scenic lake or amidst a gorgeous vineyard where you fell in love. Not sure where to elope? We have included some of the best spots below. Keep scrolling to check out the best accommodations for your premier elopement in the Finger Lakes!
Elope at Heron Hill Winery
For your special day, the perfect setting in wine country… every ceremony and celebration held at Heron Hill Winery is the product of their expert staff and event planner working one-on-one with you. Their goal is that your reception will be a joyful and memorable finale to your special day. Smell the vineyards as you overlook the lake during the best day of your life.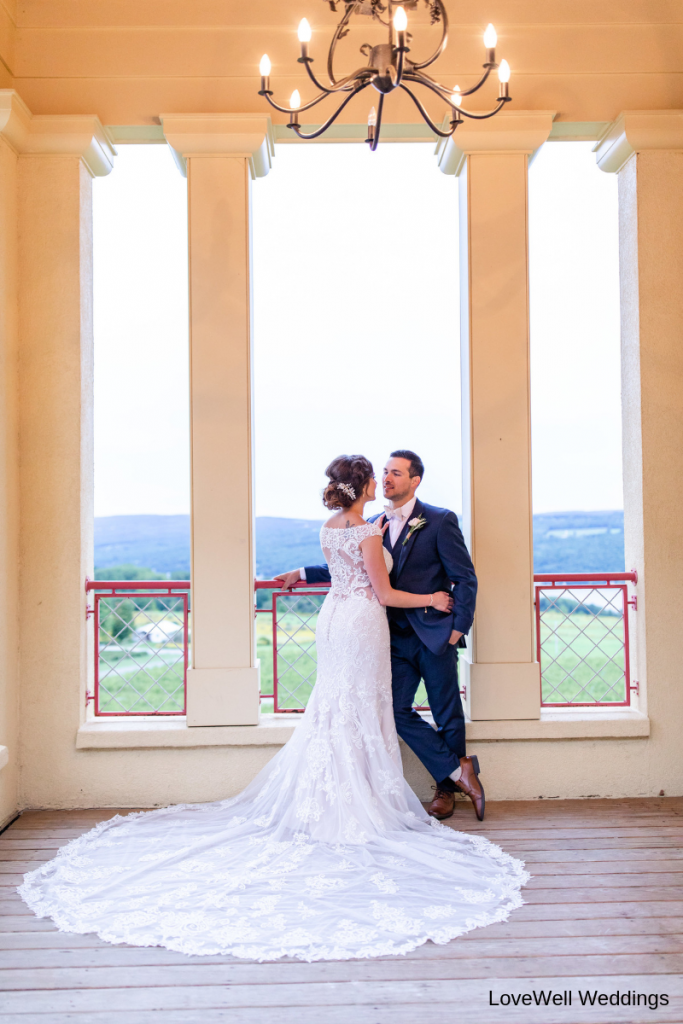 The wedding planning team at Heron Hill can put together an affordable vineyard elopement package in a romantic vineyard/lake view setting at a moment's notice. When you book a micro wedding with Heron Hill, there is a variety of concierge services you can choose to take advantage of.
The wedding team at Heron Hill will take care of everything from the officiant all the way to the photography that you will want to share for years down the road. Whether you choose their outdoor garden setting, tower overlook, or a luscious vineyard row, anywhere on their 20+ acres of property would make a beautiful and memorable place to exchange vows overlooking vista views of Keuka Lake.
Stay at QKA QT vacation rental overlooking beautiful Keuka Lake for your Heron Hill wedding. Enjoy the private setting with a breathtaking lake view of picturesque Keuka Lake from almost every angle. Take a couples journey on the lake in complimentary kayaks before or after your big day!
Amenities
Air Conditioning
2 Kayaks
Minutes from Heron Hill Winery
Beautiful Lake Views
Balcony + More!
---
Norton Chapel
Norton Chapel is located in Keuka Park. This 288-acre campus is full of gorgeous buildings, pristine gardens, and a gradual Keuka Lakefront. Perfect for a romantic elopement any time of year.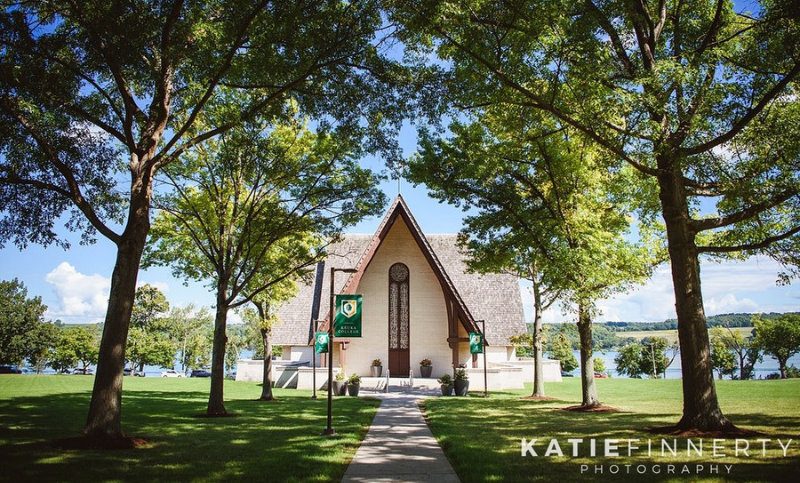 Norton Chapel on the campus of Keuka College is known for the long entrance to the chapel, elaborate views, and breathtaking organ playing. If you have a connection to Keuka College, or simply love the setting of a chapel right by the water's edge, you will find it here at Norton Chapel.
Choose to exchange your vows in the chapel, lakeside, or maybe in front of Ball Hall. Whatever you choose the backdrop to your wedding will have all your friends wishing they were at your Elopement.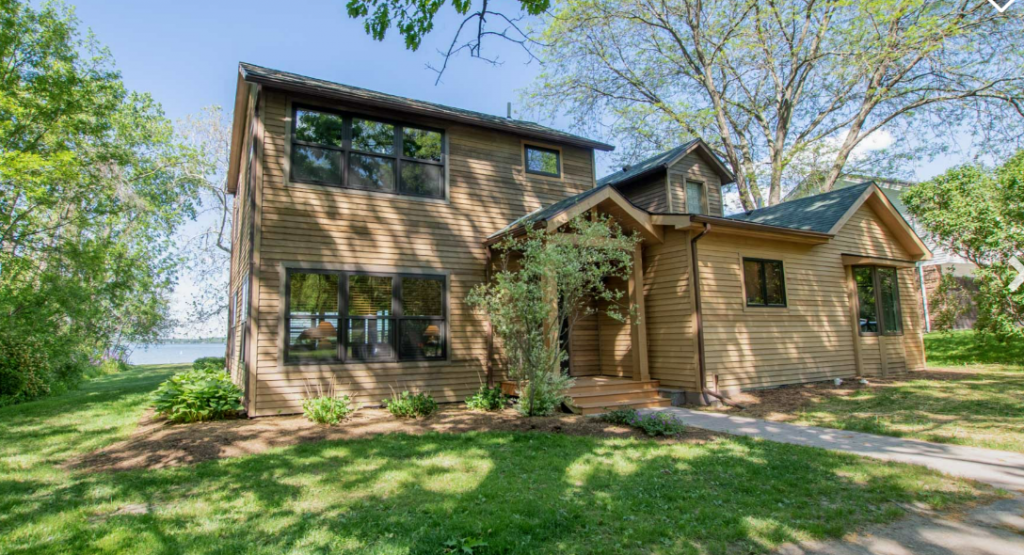 Spend your time at Maya's Palace where you can bask in the sun on the lake in a large, recently renovated home. Bonus! This home is around the corner from Garrett Chapel.
Amenities
Views of Keuka Lake
Air Conditioning
Gas Grill
Patio
EV Charger
---
Garrett Chapel
Garrett Chapel located at the end of Bluff Point is a gorgeous stone chapel made in honor of the late Charles Garrett. The chapel has been marked on the National Register of Historic Places and is known for the extensive collection of unique stained glass windows, including the last windows ever made by the distinguished artist Frederick Wilson.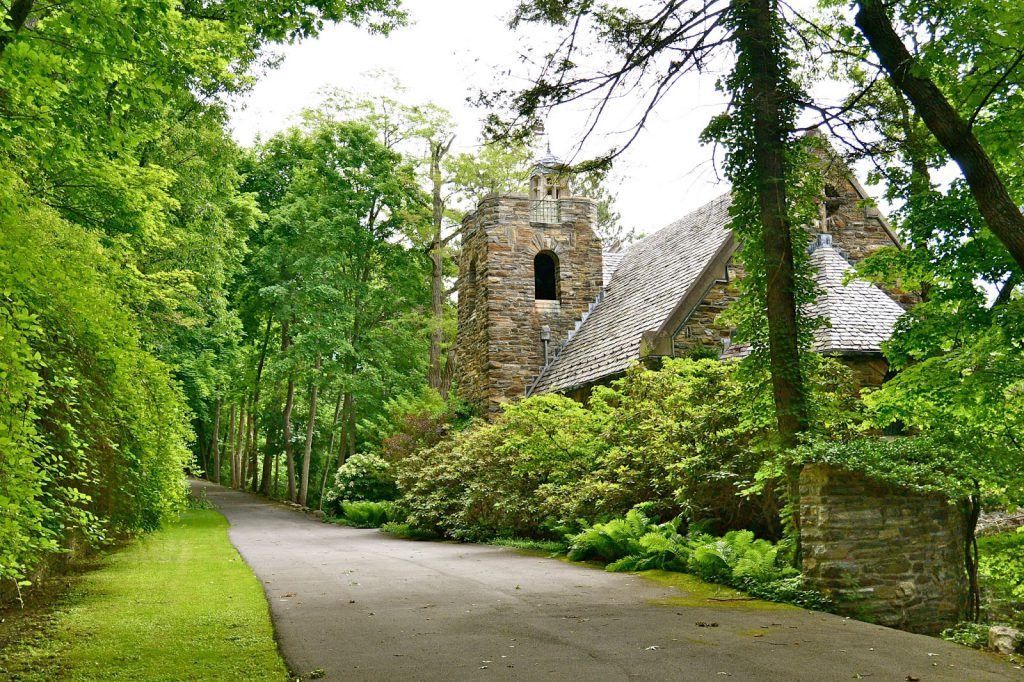 Garrett Chapel, a beautiful stone chapel with majestic peaks and tall stained glass windows will make your special day even more special than you could imagine. Multiple architectural designs were crafted and laid replicating 6th-century Saxon style, which was inspired by the Annimora Church in Scottland.
The Garrett family who was the largest wine producer in the world built this beautiful chapel in honor of their late son in 1929. It is the detail in this architectural beauty and the history of the family who built this chapel that makes this place so special. If you think this place is perfect for your elopement you better call quick because this chapel is only open for 3 months out of the year and is very difficult to obtain for an event. This is partly why it is so sought after by brides and grooms.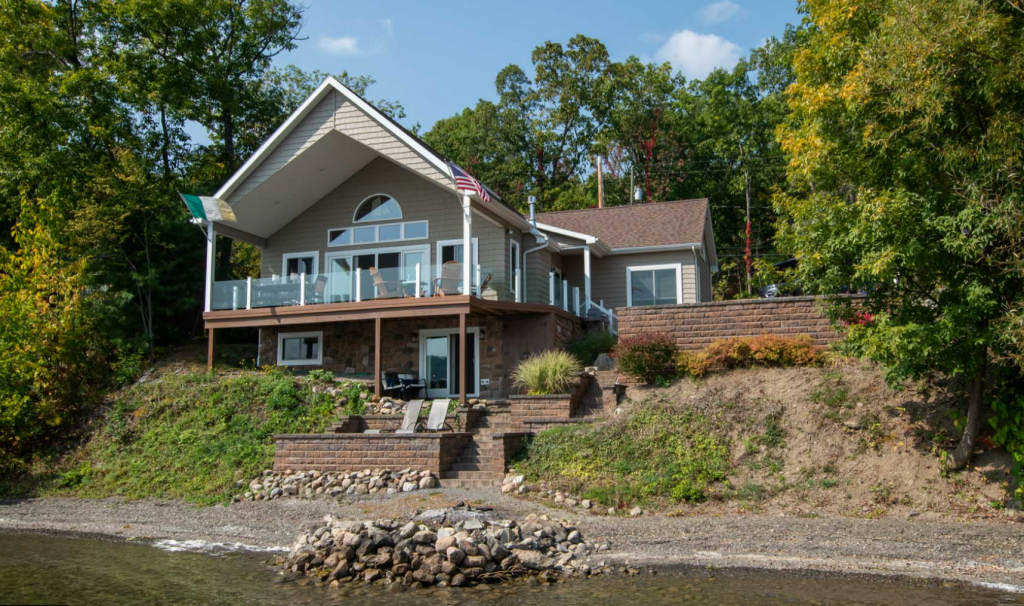 Stay at "Just Bluffin" in the quaint lakeside village of Keuka Park for your elopement at Norton Chapel. This new home is nestled in a quiet neighborhood and right on the water for a romantic experience. Spend the rest of your honeymoon exploring nearby Keuka Lake State Park, wineries, breweries, and more!
Amenities
100′ of shoreline
Air Conditioning
Fire Pit
Patio
Short Drive to Garrett Chapel
No matter where you decide to tie the knot, we guarantee our Finger Lakes vacation rentals will be the perfect place to retreat to after you have said I do.