Is it any wonder that the Finger Lakes is a prime region for fishing in the United States? When you add the 11 gorgeous Finger Lakes, plus all the smaller ponds, streams, and rivers, you get an angler's dream trip! Find out everything you need to know for the ultimate Finger Lakes fishing trip!During your Finger Lakes fishing trip, be sure to enjoy the many other things this region has to offer. Download our free Vacation Guide to get a full list of local recommendations. From museums to restaurants, you'll find a little bit of everything in our Vacation Guide.


Finger Lakes Fishing: Your Ultimate Guide
Which Finger Lake Has the Best Fishing?
If you were to ask a handful of local anglers about the best lake for fishing, it's pretty likely that you'd get a variety of answers. Each of the 11 Finger Lakes is pretty well-stocked, with a great variety of fish living in the waters.
What Kind of Fish Are In the Finger Lakes?
Seneca Lake is best for lake trout fishing, and is also known as, "The Lake Trout Capital of the World." Keuka Lake also has a phenomenal selection of trout, including rainbow trout, brown trout, and landlocked salmon. The Finger Lakes offer an abundance of smallmouth and largemouth bass, yellow perch, and northern pike as well.
Most of the lakes are considered two-story fisheries, meaning that they contain cold water and warm water species. Where you go for fishing depends on what you're hoping to catch and your preference.
When Is the Best Time to Fish in the Finger Lakes?
Fishing is a year-round activity in the Finger Lakes. During the summer, the weather is ideal for anyone wishing to spend the day on a boat in the middle of a peaceful lake.
In the winter, ice fishing is a popular activity.
Do the Finger Lakes Freeze?
Though some of the larger lakes, like Cayuga, may not freeze completely over, there are sections of most of the lakes near the shoreline that provide great ice fishing. The only lake that doesn't freeze is Seneca Lake.
Finger Lakes Fishing Regulations
Before you head out on your day of fishing, be sure to check the regulations for the Finger Lakes. If you're traveling in from out-of-state, make sure to purchase a fishing license ahead of time! Or you can take advantage of the state's free fishing days, which allows anyone to fish the fresh waters of New York without a license.
Where to Book a Finger Lakes Fishing Charter
Visitors unfamiliar with the Finger Lakes should consider booking a local fishing charter. A great option is Summit to Stream Adventures. Captain Mark offers charters on Seneca Lake, Cayuga Lake, and Keuka Lake. The charters last for five hours and cost $350 for up to five people. A fishing license is required for all charters.

Stay with Finger Lakes Premier Properties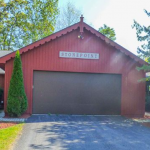 However you decide to enjoy Finger Lakes fishing, be sure to return to a gorgeous home from Finger Lakes Premier Properties. We have an incredible selection of rentals on seven of the 11 Finger Lakes. Consider booking one of the homes with non-motorized water crafts, like kayaks or canoes. These crafts make it easy to get out on the water quickly!
Consider renting Stonepoint, a six-bedroom, three-bathroom home that can accommodate up to 18 guests. This spacious property is perfect for vacations with groups of friends of the extended family. The yard features a dock, which is perfect for fishing. You won't even need to leave the property!
Take a look at our full selection of homes and book today. We look forward to having you.