One of the best parts about going on vacation is trying out all the best local dishes. After all, calories don't count on vacation! If you're getting ready to go on a foodie trip around New York, you have to try some of the best Finger Lakes restaurants in the region! There are countless restaurants in the Finger Lakes of NY that offer impeccable dining experiences, great food, award-winning New York wines, live music, fresh local produce, and beautiful vineyard views.
And, for more fun around the Finger Lakes region, make sure to request access to our exclusive Finger Lakes Vacation Guide. We've put together an extensive list of restaurants, outdoor recreation, museums, and shops so that you can plan your next NY foodie getaway with ease! 

Finger Lakes Restaurants You Need to Try Right Now 
Dining For a Special Occasion in the Finger Lakes
FLX Table
Gather the whole family or all your best friends for an elegant and fun dining experience at FLX Table. They can seat 12 people at a large dining table, where you'll try a three-to-five-course dinner, a wide selection of local beers and Finger Lakes wines, and a unique farm-to-table experience.
Seneca Lake Restaurants & Wine Trail
Glenora Wine Cellars
You can't visit wine country without making a few stops on some of the Finger Lakes Wine Trails. Some of the best places to enjoy a glass of wine and some comfort food with the girls are on the Seneca Lake Wine Trail. Glenora Wine Cellars offer top-notch meats, produce, and cheese from local farms. This awesome Finger Lakes Winery even pickles and preserves their own fruits and vegetables!
FLX Wienery
Near Watkins Glen and Geneva, you'll find an all-American classic restaurant called FLX Wienery in Dundee, NY. When traveling through the iconic Finger Lakes wine region, make a stop for one of their artisanal, high-quality brats, chorizo, Italian sausages, burgers, or fries! And then top it all off with a spiked shake.
Stonecat Café
How do fresh ingredients, top-notch Finger Lakes cuisine, accompanied by great live music sound? Stonecat Café in Hector, New York, is perfect for just that. Between 5 and 9 p.m. Wednesdays through Sundays, you can treat yourself to full-service indoor or outdoor dining in the Finger Lakes with fabulous meal options like mushroom and spinach risotto or grass-fed NY strip steak.
Cove Restaurant Bar 
Lancellotti's Dining Room and Parlor Bar 
Ports Café 
Rose Tavern 
Vonnie's Boathouse Bar and Grille 
Outdoor Dining in the Finger Lakes
Top of the Lake
1833 Kitchen & Bar at Aurora Inn
Stonecutter's Tavern at Belhurst Castle
The Waterfront
Village Marina
Sapalta
Stay Near the Best Food in the Finger Lakes of New York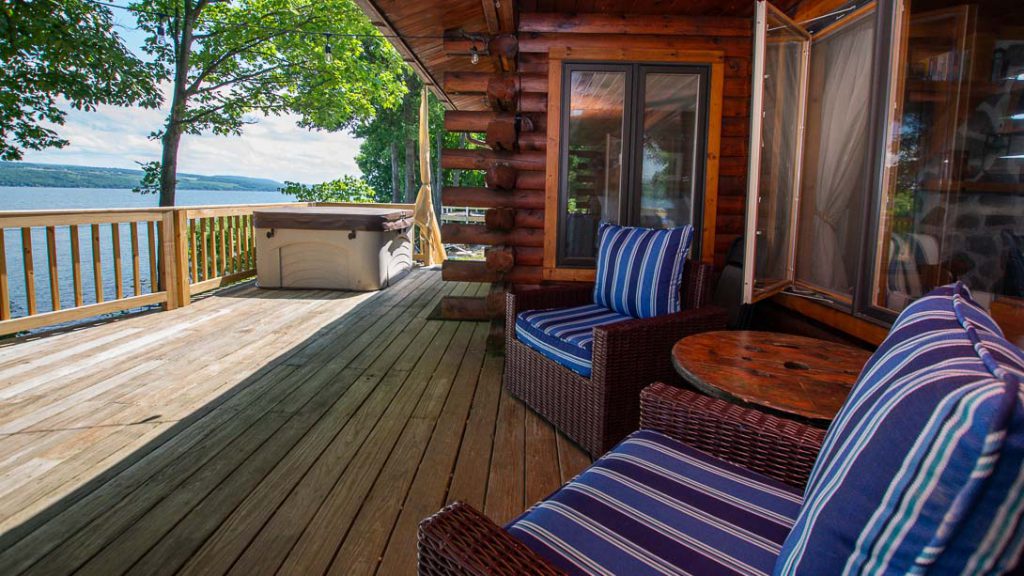 Luckily, for all the foodies out there, Finger Lakes Premier Properties offers the best vacation rentals all throughout the Finger Lakes region, with lakefront rentals on several incredible lakes, including Seneca Lake, Cayuga Lake, Canandaigua Lake, Honeoye Lake, and Conesus Lake.
Stay close to all of the best restaurants in the Finger Lakes of New York, or scope out the nearby farmers markets for fresh local produce, so that you can whip up a delicious meal in the fully equipped kitchen of your vacation home.
Check our availability and plan the ultimate foodie getaway in Upstate New York today!