Move over Napa Valley: the Finger Lakes wine region is quickly becoming one of the most well-regarded in the country! With over 100 wineries, breweries, and distilleries in the area, there is so much to explore and enjoy during your visit! If the sheer amount of vineyards available seems overwhelming, we have the perfect solution. Visit one of the three wine trails in the Finger Lakes. The best place to start is the biggest trail in the region, the Seneca Lake Wine Trail. Find out everything you need to know about this great attraction!
Explore all the wonderful things that the Finger Lakes region has to offer! Download our free Vacation Guide to get our recommendations for the best restaurants, museums, historic sites, and parks in the region! Whether you're planning on hiking the beautiful gorge trails or dining at one of the world-class restaurants around, our Vacation Guide is the best place to start. Download it today to plan the ultimate Finger Lake getaway!
Explore the Seneca Lake Wine Trail
The Seneca Lake Wine Trail was first formed in 1986 in order to share the area's rich history, gorgeous scenery, and (of course) the best Seneca Lake wineries with visitors. Since it opened, the Seneca Lake Wine Trail has become the largest wine trail in the State of New York! There are 35 wineries, one distillery, two cider producers, two breweries, and one meadery on the trail.
It's no surprise that Seneca Lake is home to so many incredible vineyards. The natural conditions around the lake help produce both full-bodied and delicate varieties of wine. You'll find everything from a Riesling or Pinot Noir to hybrid wines here! Find out for yourself why these award-winning wineries are considered to be some of the best producers of Riesling, Pinot Gris, Honey Wines, Cabernet Franc (just to name a few).
Attend Seneca Lake Wine Trail Events
There are plenty of great annual trail events! Here are a few of our favorites:
Pasta & Wine Weekend
Need we say more? This beloved event, which typically takes place in late March, encourages visitors to take a self-guided tour around Seneca Lake and visit participating wineries. Be sure to purchase your tickets well in advanced, as this event does sell out quickly.
Spring Wine & Cheese Weekend
Is there a more classic pairing than wine and cheese? Luckily, the Finger Lakes region is home to incredible producers of both! Again, this event is a self-guided tour, visiting the participating wineries and enjoying delectable cheese-themed dishes.
Seneca Lake Wine & Food
If you only have time to visit one food and wine event, make it this one! This annual extravaganza typically features over 200 wineries, many regional food vendors, and other local businesses selling their wares.
Smokin' Summer Kickoff
Say hello to summer in the Finger Lakes! Find out which wines pair best with grilled foods during this great event. Again, enjoy a self-guided tour around Seneca Lake, sampling to your heart's content!
Deck the Halls
Enjoy plenty of holiday cheer when you go on this self-guided tour! During the winter season, the local wineries are all decked out for the holidays and ready to gift you with some great freebies! Visit the wineries, receive a recipe book, and collect ornaments to decorate your handmade grapevine wreath.
Stay with Finger Lakes Premier Properties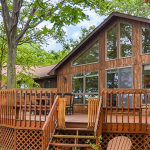 If you're tasting world-class wines during your Seneca Lake Wine Trail tour, you need to make sure that you're staying in a world-class home. Finger Lakes Premier Properties has the best selection of vacation rentals in the region, with many gorgeous homes located around Seneca Lake. Consider staying in Seneca Lake Effect, a beautiful six-bedroom, six-bathroom home that is perfect for vacations with the extended family. Enjoy eating a delicious meal at the large dining room table that can accommodate up to 12 guests or spending time in the game room. There's even a play area for toddlers in the home!
Check out the rest of our rentals and book today. We look forward to having you.