If you see the Finger Lakes as a summer-only destination, then you're missing out on one of the best skiing destinations in the country! Our region houses seemingly endless opportunities for downhill and Nordic skiing. With our gorgeous state parks (many of which features trails that are perfect for cross-country skiing) and the amazing ski resorts, you won't have much trouble finding a little slice of heaven to explore. If you've never skied in the Finger Lakes, consider heading to the Bristol Mountain Ski Resort. This outstanding facility has created one of the most perfect ski areas in the country.
Discover everything you need to know about this business and where you should stay during your next winter trip to the Finger Lakes! If you need even more help planning your getaway, download our free Vacation Guide!
Why Go Skiing in the Finger Lakes?
Why is the Finger Lakes such an up-and-coming ski destination? Much of it is to do with the type of snow we get. Lake-effect snow, which is caused by cold winds coming off large bodies of waters, is considered one of the best for winter sports. The snow is smooth and powdery, though the surface becomes slick after an overnight freeze. It's especially well-suited for skiing or snowboarding. No matter your skill level or experience, you'll be able to find a trail or slope that is accessible to you. Check out our blog for even more information on skiing in the Finger Lakes region!
The History of the Bristol Mountain Ski Resort
The fun at Bristol Mountain began in 1964 when Fred Sarkis cleared the land and built a base lodge. From there, Sarkis began rapidly making improvements to the resort and accolades from visitors came just as quickly. The next year, snowmaking abilities and the new ski lift were added.
In 1967, Robert Kennedy (who, at the time, was a New York senator) enjoyed a ski vacation at Bristol Mountain. In 1968, it became known as the world's largest illuminated ski resort. It wasn't long before this excellent facility welcomed hundreds of thousands of visitors a year. Over time, the resort has kept up-to-date with the latest technology and is known for always improving its facilities, snowmaking abilities, and attention to detail. Today, it's considered an excellent year-round attraction for family-friendly fun.
Visit the Bristol Mountain Ski Resort
A visit to the Bristol Mountain Ski Resort, located off of Canandaigua Lake, is an epic adventure. With a 1,200-foot vertical rise, the mountain is the highest of its kind in the region. During the winter, guests can explore 138 acres of skiable terrain, which includes three kilometers of Nordic trails and 35 slopes and incline paths. In the snow season, the resort gets about 120 inches of snowfall. The attention to detail paid to the condition of the trails is impeccable. They have a state-of-the-art snowmaking system covering 97% of the terrain and bright lighting for 96% of the paths during the night season. The ski resort transforms into an aerial adventure park if you're visiting during the warmer months. Travel zip lines and cross elevated bridges when you try your hand (and feet) at the obstacle course.
Bristol Mountain in the Winter
Get a glimpse of everything you can see and do at Bristol Mountain during the coldest months of the year.
Bristol Mountain Skiing and Snowboarding
The most popular activity at Bristol Mountain is, without a doubt, skiing or snowboarding. There are around 35 trails as well as five terrain parks and pipes. They also have six lifts, including three quad lifts. If you're planning a trip, we suggest you check the weather and conditions at Bristol Mountain a week from your arrival. You'll be able to get a sneak peek at the open trails and plan your trip more efficiently!
If you're new to skiing, consider booking one of the many available lessons at Bristol Mountain. A program for guests aged 13 or older promises that you'll learn to ski or snowboard for only $99. If you're traveling with younger kids, book the ski camp (which takes place over three days and is held three times a season) or the junior lessons. Money-saving packages are also available that combine lift tickets, multiple lessons, and rentals. If you'd prefer one-on-one time with an instructor, you can arrange a private lesson. These are very reasonably priced at $90 for the first hour and $30 for each additional half-hour. You can add more participants to the lesson for $60 each.
Morning Star Race Park
Are you feeling competitive? The Morning Star Race Park is calling your name! Located on the Morning Star Trail, the park operates in two modes. The first is Open Gates, which allows skiers or snowboarders to enjoy the run at no extra charge. The NASTAR Timed Racing lets racers compare themselves against the best. For just $5 per day or $25 for a season pass, you can time yourself against the fastest ski racer in the country, Ted Ligety!
Bristol Mountain Nordic Center
Set your own pace and enjoy a relaxing cross-country skiing experience when you visit the Bristol Mountain Nordic Center. There are three kilometers of trail ready for you to explore. About half of the paths are perfect for skiers of all skill levels, due to their gentle slopes. The other half is a bit more of a challenge and is only open when weather permits. The Center operates from around mid-December to mid-March (depending on the snow conditions or race events), every day from 9:00 a.m. to 8:00 p.m.
Bristol Mountain in the Summer
Bristol Mountain doesn't just have excellent winter attractions. The summer is just as fun! Preview what you can find during the warmer months.
Zipline Canopy Tour
Soar above the treetops when you visit Bristol Mountain Aerial Adventure! They offer a Zipline Canopy Tour, which gives visitors a new perspective on our beautiful region. Explore the seven zip lines, which measure over 5,000 feet long. You'll walk across four bridges, each which gives you a jaw-dropping view. The course ends in an epic leap of faith!
Aerial Adventure Park
If you'd prefer a challenge, head to the Aerial Adventure Park. With seven courses, you can curate your experience to whatever level of difficulty you'd prefer. Each of the available courses has a different combination of elements, like zip lines, tightrope walks, rope ladders, and bridges. You and your family will have a wonderful time maneuvering through the obstacles.
Kids Adventure Park
If you're looking for some kid-friendly fun, you're in luck. The Kids Adventure Park has two courses which are perfect for little ones aged four to seven.
Other Things to do in the Finger Lakes in the Winter
Between skiing or snowboarding the slopes of Bristol Mountain, consider checking out some of great Finger Lakes Christmas events! The Canandaigua Christkindl Market, just a 30-minute drive from Bristol Mountain, transforms the town into a German-inspired holiday market. Enjoy traditional Bavarian food, wine, beer, and music while doing some holiday shopping. For a trip into a fantasyland, head to the quiet village of Seneca Falls. This village is said to be the inspiration for the classic film, It's a Wonderful Life.
During a weekend in December, the town celebrates the movie's legacy with carriage rides, charity events, and production screenings. Finally, Village Christmas in Watkins Glen has everything you need for the Christmas season. There's a parade, carolers, arts and crafts, a fireworks show, plus a meeting with Mr. and Mrs. Claus and their reindeer! This festival is a must for anyone traveling to the area with their family during in early December.
Stay with Finger Lakes Premier Properties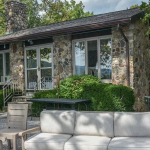 After your day at Bristol Mountain Ski Resort, you'll want to return to a quiet, luxurious vacation home with amazing amenities and a gorgeous view. You won't find that from any other vacation rental management company. We have the largest and best selection of rentals in the region.
Consider booking Jones Beach, which is just a 13-minute drive from the resort and located just south of the Bristol Harbor Golf Club. Situated in an upscale lakefront community, guests who stay here get to enjoy the home's fabulous amenities, like a glass-enclosed heated indoor pool and hot tub, or the library which features a pool table. After the kids go to sleep for the night, you and your loved one can cuddle in front of the wood-burning fireplace in the expansive living room. Or, if you'd prefer, you can retire to the massive master suite, which overlooks the pool and also features a wood-burning fireplace. This four-bedroom, three-bathroom home can sleep up to 12 guests, making it the perfect place to stay if you're traveling with extended family. Treat yourself to the winter getaway of a lifetime!
Check out the rest of our available vacation rentals and book your winter vacation today! We look forward to having you.