Explore the first organized and longest-running wine trail in the United States! Established in 1983, the Cayuga Lake Wine Trail features a total of 16 member wineries, all of which are dog-friendly! This list includes cideries, a meadery, four distilleries, and a taproom, so there's truly something for everyone to enjoy. Add to that the incredible views of Cayuga Lake and you'll have a wonderful vacation! Get a preview of the wineries on the trail below. If you're interested in learning about more wineries in the area, download our free Vacation Guide!
Explore the Cayuga Lake Wine Trail
Americana Vineyards
Can you think of a better combination than fudge and wine? Americana Vineyards can't! Visit to enjoy their award-winning wines, homemade fudge, and even local beers in their onsite taproom and beer garden. While you're there, dine at the Cyrstal Lake Cafe, which is serving up expertly prepared meals that use local and seasonal ingredients.
Buttonwood Grove Winery
Speaking of award-winning wines, visit the winner of the 2017 Governor's Cup! Buttonwood Grove Winery has some of the best views in the region, which you can enjoy from their multi-level deck.
Cayuga Ridge Estate Winery
There's no better place for a picnic than Cayuga Ridge Estate Winery! Sip their delicious wines and visit their gift shop, which offers local and handmade products. Enjoy artisan cheeses and picnic snacks, including wood-fired pizzas from The Copper Oen.
Goose Watch Winery
Goose Watch Winery has been making unique and specialty wines for over 20 years. The winemakers of Goose Watch Winery were awarded "Winemakers of the Year" in 2017 at the San Francisco International Wine Competition, which is the largest contest held in California.
Hosmer Winery
Home to some of the oldest vineyards along Cayuga Lake, Hosmer Winery is focused on making wines in a sustainable way with little impact on the environment.
Knapp Winery
Knapp Winery and Vineyard Restaurant has been around for 35 years, making robust wines and unique varietals. The onsite restaurant complements the wines perfectly, serving an equally eclectic menu.
Long Point Winery
A family-owned establishment, Long Point Winery is serving friendly smiles, delicious wines, and gorgeous views of the lake.
Lucas Vineyards
Lucas Vineyards, owned by the Lucas family, features one of the first female winemakers of the Finger Lakes! They are known for their Tug Boat Sangria and Raspberry Blue Splash, both refreshing drinks on a hot day!
Montezuma Winery
With fruit, grape, and honey wines, you'll find more than enough to enjoy at Montezuma Winery. The attached onsite distillery offers spirits which were crafted from locally grown products. Their gift shop is another must.
Six Mile Creek Vineyard
If you're planning on touring downtown Ithaca, stop by Six Mile Creek Vineyard. This is another great spot for a picnic or special event. They also carry a line of specialty spirits that have also been distilled from local grapes.
Swedish Hill Winery
Three-time winners of the Governor Cup, Swedish Hill Winery is one of the most prestigious establishments with one of the widest selections of drinks in the region. Be sure to visit their famous miniature donkey and their miniature horse!
Thirsty Owl Wine Company
One of the best lunchtime spots in Cayuga Lake, Thirsty Owl Wine Company is a fantastic business to visit by land or by boat!
Toro Run Winery
Located on a glacier-carved hillside, Toro Run Winery boasts the best view in the region! Explore their scenic hiking trail and sample the award-winning varieties.
Varick Winery & Vineyard
Varick Winery & Vineyard has the feel of an old country store. You'll be able to shop among jellies, preserves, mustards, and so much more at their gift shop. Sit for a while in one of the rocking chairs facing the lake or pick cherries from their orchard in June or July.
Stay with Finger Lakes Premier Properties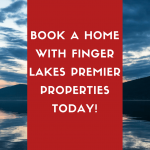 Are you ready to explore the Cayuga Lake Wine Trail? Then book a rental home with Finger Lakes Premier Properties! You won't be able to find such an incredible selection of vacation houses anywhere else in the region. Enjoy top-notch accommodations surrounding by gorgeous vistas.
Check out our full selection of properties and book today! We look forward to having you.