This October, do something spooktacular while giving your taste buds something cold and refreshing! For Halloween weekend, head over to the Finger Lakes to experience the annual Finger Lakes Beer Festival! Beer-fanatics from all over crave this popular event and return year after year. Read on to learn why this fall festival is such a hit!
Don't waste time searching for more things to do when you can use our easy guide. Unlock our free Finger Lakes Vacation Guide for exclusive access to the best attractions, like other events, outdoor recreation, restaurants, bars, and museums. 


What Can I expect at Finger Lakes Beer Festival Weekend?
When Is Finger Lakes Beer Festival?
Chemung Canal Trust's Finger Lakes Beer Festival Weekend will fizz up between October 29-30, 2021, this year.
Where Is Finger Lakes Beer Festival?
The festival takes place every year at Watkins Glen International. 
See What the Buzz Is About
It's obvious that you'll have the opportunity to drink the best beer around, but did you know you'll be able to taste more than 40 New York state breweries, distilleries, and cideries?
Feeling competitive? After you've got a good buzz going, take part in a 32-team corn hole competition and stein holding contest! You heard that correctly – you'll be playing a giant corn hole tournament against 31 other teams!
Drive the Glen
Enjoy a race weekend when you explore North America's Premier Road Racing Facility, Glen International. It's the only NASCAR racetrack in New York that you can drive yourself. All you have to do to feel like you're a professional racecar driver is bring your car, and you can drive laps around a 3.4-mile Grand Prix circuit.
Every day except for some select days in August September, and October, drivers have the opportunity to take laps around the course at noon and 5 p.m. Make sure to arrive early to make sure everything runs smoothly!
NASCAR Experiences at the Glen
There are several different NASCAR experiences to choose from that can accommodate any fan or group. Package options include the Family 4-Pack, Primesport, Tailgate Zone Parking, Glentopia, or Scanner Rental. See their website to learn about the details and differences between each package.
If You Like the Finger Lakes Beer Festival, You Might Also Enjoy…
If you visit during the summer months, you might be able to make it to the Finger Lakes Wine Festival where you can enjoy an extensive selection of wines from all over the state of New York. Voted "the Best Wine Festival" in the United States, you're sure to enjoy the variety of wines from almost 100 different NY wineries, food vendors, pace car vendors, live music, and more.
Relax After a Buzzworthy Day of Tastings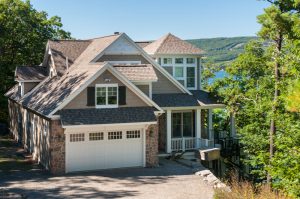 After a day of racing around the Glen campgrounds with your best buds, kick your feet up and unwind in a nearby vacation rental on the lake. Finger Lakes Premier Properties is the best rental company in all the Finger Lakes, and you'll agree when you experience the best family memories and bonding experiences by the water. Make it a tradition, and stay in a gorgeous, family-sized home with a dock, and you'll see why visitors return to the Finger Lakes year after year. Check our availability now, and reserve the best lake-cation yet!