The Finger Lakes are full of marvelous views and exciting activities. You'll want to make it an annual trip once you see our amazing waterfalls and walking trails. Before you lace up your hiking boots and experience the best things to do in Watkins Glen, NY, make sure to request access to our complimentary Vacation Guide. It has everything you need to know to plan your Finger Lakes vacation, including restaurants, local attractions, shopping, and entertainment.


Things to Do in Watkins Glen, NY
Watkins Glen is a beautiful village in Schuyler County packed with a variety of outdoor adventures. Waterfalls flow throughout the area, along numerous walking trails that guide the way. In addition to the beautiful outdoor attractions, you can also visit and drive on the only NASCAR track in the state of New York, explore a wine trail, or go out on a boat. Below are some of the best points of interest and activities to make your lake vacation special.
Watkins Glen State Park Gorge
Watkins Glen State Park Gorge is a must during your visit to the Finger Lakes. It's one of the most famous state parks in the region, and it is absolutely gorgeous (pun intended!). Hike the 2.5-mile trail and encounter 19 magnificent waterfalls along the way!

If you plan to walk the Gorge Trail, you should come between May and October, but if you want to see the waterfalls at their most powerful flow, visit during the spring. You can also have a picnic in the most serene setting or go for a swim in the Olympic-sized pool. Don't forget to take your furry companion! Dogs are allowed on the Indian and South Rim Trail as long as they stay by your side on a leash.

Drive the Watkins Glen International
Have you ever dreamed of becoming a professional race car driver? Watkins Glen International is the perfect place to go to get that feeling! It's the only NASCAR race track in the state of New York, and you can drive it yourself! Bring your personal car and drive around the 3.4-mile Grand Prix Circuit. Drive the Glen is available from April to November. Make sure to bring your driver's license and your registered and insured vehicle. You must be 18 years old to participate.

The Glen also has events and big races throughout the year. Some of those include Go Bowling at the Glen, a tripleheader weekend which is a top-ranked event on the NASCAR calendar every summer, and the Ticket Galaxy Beer Festival. It's an October event, featuring 40 breweries, a cornhole tournament, pace car rides, amazing food, and fantastic live music.
Seneca Lake Wine Trail in Watkins Glen
Finger Lakes has the perfect trail for wine lovers — a wine trail, that is! Make your way down the Seneca Lake Wine Trail to taste world-class, local wines. You can schedule a personalized tasting or a private tour from a selection of 31 wineries. Skip around to check out the entire trail that loops around Seneca Lake or stay in Watkins Glen, where Castel Grisch and Lakewood Vineyards are located.

Sunset View Creamery
What goes better with wine than cheese? In between your wine tours, make a stop at Sunset View Creamery. The Hoffman family has been producing the Finger Lakes' top quality milk and cheese since 1905. Shop at the farm store, which offers 10 varieties of artisan milk cheese, seven varieties of cheese curd, raw milk, locally sourced beef, eggs, fudge, and more!

You can take a tour and meet some of their friendly animals or try their delicious cheese samples! Can't get enough wine and cheese? Well, you're in luck because Glen Watkins is part of the Seneca Lake Cheese Trail as well!

Sailing Charters in Watkins Glen
There's no better way to experience the Finger Lakes than actually going out on one of the lakes. Board the True Love sailboat with Schooner Excursions for a fantastic trip in Seneca Harbor. The boat takes off four times a day, and you can either call ahead or just show up! You can also go on a private charter, completely stocked with food and drinks! Don't worry if you're a novice sailor. There is a schooner perfect for your skill level.
Return to Your Luxury Finger Lakes Premier Properties Rental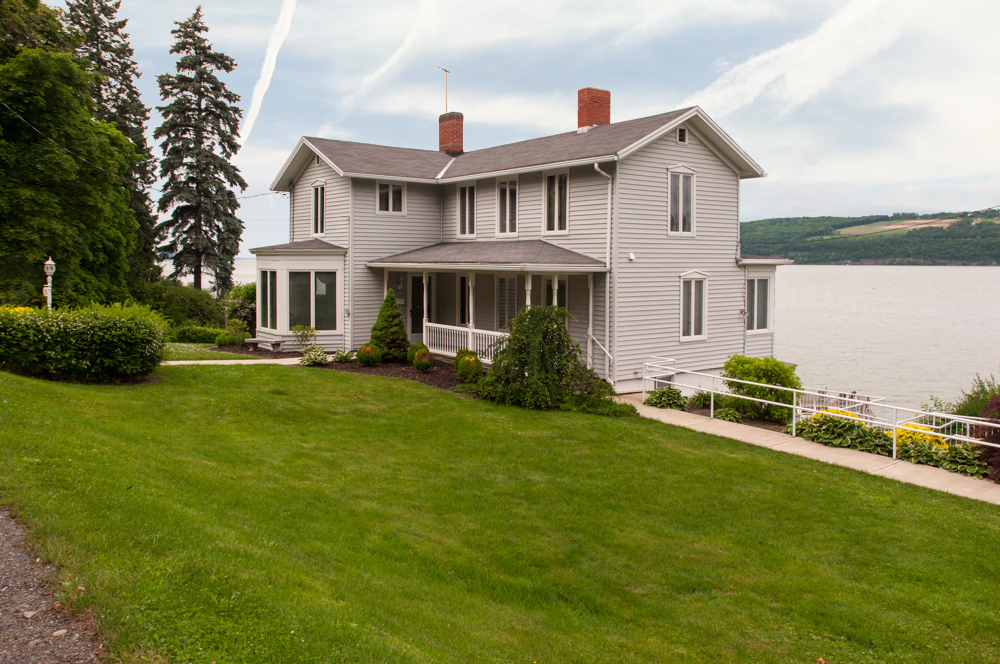 After a day of exploring Glen Watkins, make your way back to a luxury lakefront vacation home. Stay with Finger Lakes Premier Properties for the ultimate family getaway. Choose from vacation rentals with elegant verandas, relaxing hot tubs, convenient boat docks, or all of the above!
Make yourself at home in the Dean Lake House. This four-bedroom vacation rental accommodates 10 people and is located on the Seneca Lake. This historic home, built in 1850, features upscale, modern amenities. You'll feel at peace waking up every morning to the gorgeous views of the serene lake as the sun rises. Gather the family to catch up with each other on the patio or head out to the dock and go for a swim or go fishing. If you're ready for the vacation of a lifetime, check our availability and book your family getaway today!