Are you looking for the best day hikes in the Finger Lakes? You're in luck! There are plenty of fantastic trails to explore through the region. From the gorge trails that weave you through streams and rivers to beautiful lakefront trails featuring gorgeous views, there's always a good reason to lace up your boots. Enjoy a day of Finger Lakes hiking during your visit! 
We've listed some of our favorite Finger Lakes hiking trails, but there's plenty more to discover! request our free Vacation Guide to get a full list of local parks and trails! You'll also get our picks for the best restaurants, wineries, breweries, and more. Never go hiking on an empty stomach! Plan your trip in no time when you use our free Vacation Guide.


Enjoy the Best of Finger Lakes Hiking Trails
1. Finger Lakes Trail System
Explore a network of trails known as the Finger Lakes Trail System (FLT). A non-profit, Finger Lakes Trail Conference administers the FLT, a continuous footpath that crosses New York State. Hike the main trails leading to many different branch trails like the Bristol Hills Trail.
Where does the Finger Lakes Trail Run Through?
The 950-mile trail runs from the Pennsylvania and New York border in Allegany State Park to Long Path in the Catskill Forest Preserve on public and private land, crossing sections of land from around 700 private landowners!
Make sure to check the trail conditions before starting your adventures. FLTC's interactive maps will help you make your way across the Finger Lakes.
2. North Country National Scenic Trail
The North Country Trail (NCT) also runs through the Finger Lakes region. The National Park Service runs the NCT that goes through Vermont, New York, Pennsylvania, Ohio, Michigan, Wisconsin, Minnesota, and North Dakota.
Fun fact: This one is the longest of the Congress-authorized National Scenic Trails at 3,129 miles!
3. Finger Lakes National Forest
Nestled between Cayuga and Seneca Lake is the Finger Lakes National Forest. This is the state's only national forest and features a wide range of natural features, including open land, gorges, and woodlands. In total, there are over 30 miles of hiking trails. Don't be surprised if you see a free-ranging cow or two during your visit! The forestland provides some fantastic grasslands for livestock.
New York State Parks
4. Seneca Lake State Park
For a relaxing, lakefront stroll, explore the famous Seneca Lake State Park hiking trail! The Geneva Lakefront Trail is located in the park and named after the town in which it's located, is just over four miles long and good for all skill levels. Since the trail surrounds Seneca Lake, it's best hiked from February until October.
5. Watkins Glen State Park
For some incredible Finger Lakes hiking with waterfall views, visit Watkins Glen State Park. This is an immensely popular park in the area and was even nominated in the USA Today Readers' Choice Poll for Best State Park in the country. Located at the southernmost tip of Seneca Lake, the trails at Watkins Glen State Park wind through beautiful stone staircases, bridges, and tunnels. This is one of the premier destinations for Finger Lakes gorge trails.
6. Taughannock Falls State Park
Did you know you can take a trail that leads to the biggest gorge in Ithaca, NY? Plus, it gets better. The waterfall at Taughannock Falls State Park is taller than Niagara Falls, and is actually the tallest waterfall in New York!
Kick Your Feet Up and Relax With Finger Lakes Premier Properties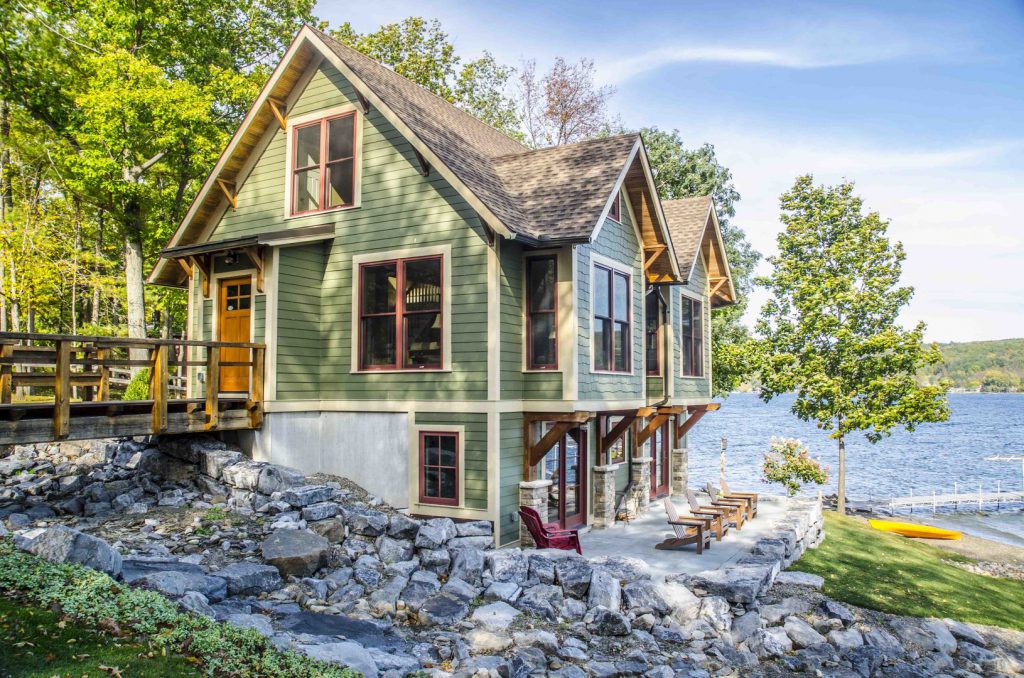 After your day of exploring the best Finger Lakes hiking trails, return to a gorgeous home from Finger Lakes Premier Properties. We have the most incredible selection of properties on seven of the 11 lakes. We offer a large selection of small or large Finger Lakes vacation rentals to accommodate you after a long day of hiking with top-notch amenities so that you can do relaxing activities like soaking in a hot tub with a captivating mountain view!
Are you ready to book? Browse through our full catalog of properties and reserve your home today! We look forward to having you.