Are you planning a family vacation with the whole family? Too often, what should be a fun, carefree trip is preceded by weeks of frantic, stressful planning. This is especially true when you are visiting an area for the first time. Finding restaurants, attractions, and entertainment that's perfect for everyone in your group is no easy challenge. Luckily, the Finger Lakes is home to a wide range of excellent parks, hiking trails, and other fun spots that are sure to please all. If you're staying near Canandaigua Lake, then Roseland Waterpark is the solution to your planning needs! Discover everything you need to know about it below.



Visit Roseland Waterpark

Roseland Waterpark is a summer-only attraction located north of Canandaigua Lake. The park is part of the Bristol Mountain family, so you can feel assured that the grounds are going to be well-maintained and there's plenty of fun to have! It stretches over 56 acres with nine unique rides or games. Whether you'd prefer to spend your day relaxing on the deck or experiencing the twists and turns of the slides, Roseland Waterpark is worth the price of admission! Speaking of, access to the park is just $30.51 per person. There is also a Family Night Special to help you save on your ticket for a group of four on Saturday nights.

Preview the Rides

Wave Pool: Catch a wave! This 27,000-square-foot ocean simulator is the park's most popular ride. You can relax in the shallow end or body surf down the waves (which can reach up to five feet!).
Splash Factory: Even the littlest visitors can have fun at Roseland Waterpark. This huge playground is for guests two-feet and shorter. Your kids can enjoy zipping down the slides or playing in the sprinklers.
Mammoth Raft Ride: A ride for the whole family! Ride down a raft fit for four kids on this winding path.
The Cliff: We hope you're afraid of heights! The Cliff is the park's giant slide which features a 65-foot drop. You can reach speeds of up to 30 miles per hour!
The Twister: Don't get it twisted. If you're looking for something with more curves and swerves, The Twister is right for you.
Adventure River: Sit back and relax on this 600-foot long lazy river.
The Screamer: Grab your tube and get ready for the ride of your life!
The Tornado: You're sure to get swept up by the exciting spins of The Tornado.
The Hurricane: 300-feet of water and waves are found within this enclosed slide.
Don't Forget About Roseland Wake Park!

Roseland Wake Park is next to the waterpark and is the first (and only!) cable wake park in the Northeastern United States. The park has a five-tower cable system and a two-tower training cable system. If you don't know what that means, you're probably new to wakeboarding. In that case, consider booking one of the park's private lessons to get a handle on the sport! They also offer a Learn to Ride class that's great for guests of all ages.

Book Your Summer Stay Today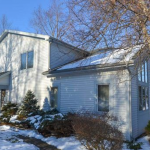 Are you ready to splash and laugh at Roseland Waterpark? Then book a home from Finger Lakes Premier Properties! We have an outstanding selection of accommodations on the edge of seven of the 11 lakes. Consider booking Island View, a six-bedroom, four-bathroom house that's an eight-minute drive from the park! It's the perfect home for a getaway with the extended family. With a large kitchen and equipped game room, everyone has something to enjoy.

Browse our full inventory and book today! We look forward to having you.