Enjoy a cruise on the largest of the Finger Lakes! Seneca Lake boat tours are a great way to get out on the water and enjoy an hour or two. Whether you're looking for a quiet afternoon on the water or want to enjoy a glass of wine on your cruise, we've got the perfect recommendations! If you are in the area but have already been to Seneca, we also have a few alternative options we think you will love!
Are you looking for more recommendations for things to do in the area? Or maybe you'd prefer to go on a Keuka Lake or Cayuga Lake boat tour. Everything you need to know is all in our Vacation Guide! Download it today to get the inside scoop on the best of Finger Lakes tours. Our Vacation Guide has helped countless visitors plan their trips to this beautiful region, and it can help you too! Download it today to get started.
The Best Seneca Lake Boat Tours
Captain Bill's Seneca Lake Cruises
Captain's Bill's Seneca Lake Cruises is the place to go if you want an elegant experience on the lake. This family-owned business offers two cruises. The first takes place aboard the 270-passenger dining vessel, the Seneca Legacy. This Seneca Lake dinner cruise is available during the summer season. Each day brings a new menu to the cruise, from tours that feature local craft beers paired with artisan cheeses to a full-service, sit-down dinner experience. Their second cruise takes place aboard the Stroller IV and is a more traditional cruise. The schedule for this sightseeing cruise varies based on the time of year, so check the schedule before heading out! After your sightseeing tour, be sure to stop by Seneca Harbor Station, a restaurant located at the harbor. You'll love the gorgeous views paired delicious food!
Seneca Wine Boat Tours
Look no further if you're looking for the best Seneca Lake wine boat tours! Seneca Lake Wine Tours offer fun tours for up to six guests. These tours are just $100 per hour, with a minimum requirement of two hours. These tours book up quickly, so reserve a spot in advance!
Falling Waters Boat Tours
Their boat tour cruises the lake's east, west and south shores with scenic sites including the majestic 250′ top to bottom Hector Waterfalls, multimillion dollar estates, 200 -400 ft. shale cliffs, state parks, rolling hillside vineyards and Watkins Glen. Falling Waters Boat Tours capture the open water fun of boating on Seneca Lake's crystal clear waters with views that can only be experienced by boat.
Hector Waterfall: Your tour continues on land with a short walk from their lake dock and takes you to an exclusive natural shale patio that meets the waterfall's edge. Enjoy a complimentary Finger Lakes beverage while viewing the beauty of the majestic 165 ft. lower Hector Falls from the patio or explore the waterfall just steps away. Bring your water shoes and get up close walking the flat shale at the base of the falls as the refreshing water rolls over your feet. You can fully experience the tumbling water as it flows over the towering cliff. There is nothing more exhilarating! Don't want to get in the water? You can admire the falls from the patio just 40ft away or sit on the side of the falls while admiring its pure beauty and energy. There is nothing more relaxing than watching and listening to the falling water.
Schooner Excursions
Schooner Excursions is a great place to go for private or public charters. Their boats are smaller than Captain Bill's, giving you a more intimate experience. Schooner Excursions has two boats in their fleet. The first, True Love, can accommodate up to 22 people. During their public sail days, they offer morning, midday, midafternoon, and sunset sails. You can also book their Wine & Wind on the Water tour, a wine tour that features local wineries. Enjoy a delicious glass of wine paired with local Finger Lakes cheeses and hors d'oeuvres. Their second boat, The Remedy, offers eco-tours, history tours, custom sightseeing cruises, and private charters.
Other Finger Lakes Boat Tours We Love
Learn to Sail with Keuk Yacht Club (KYC)
Between Hammondsport and Branchport, discover Keuka Lake to find the oldest inland yacht club in the United States, Keuka Yacht Club! The 1872 club can help you learn the ins and outs of sailing the iconic Finger Lakes of New York with a 6-session junior sailing program and two-week advanced program.
True Love
Meet True Love, a gorgeous 1925 sailboat that trekked the deep waters of the Atlantic Ocean and the Caribbean Sea to later call the Seneca Lake in the Finger Lakes region home! You can hop aboard True Love at the Seneca Harbor Park Pier in Watkins Glen, NY.
This special sailboat has a famous past of hosting celebrities or public figures like the Chairman of Chrysler Motors, Bing Crosby, and Grace Kelly in the movie "High Society," and sporting an appearance in "The Philadelphia Story" with Katharine Hepburn.
Trying to hop aboard True Love? Choose from several experiences including private sailing charters, weddings, parties, public sailing, and more.
Sailing Charters in the Area
Stay with Finger Lakes Premier Properties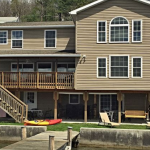 After your Seneca Lake boat tour, return to a gorgeous vacation rental from Finger Lakes Premier Properties. We have the region's best selection of lakefront homes, including many outstanding properties along Seneca Lake. Consider booking Below the Vineyard, an outstanding six-bedroom, four-bathroom property that is positioned on the Seneca Lake Wine Trail. Amenities include a propane grill, fire bit, a gorgeous deck, and a permanent dock.
Take a look at our full selection of properties and book today! We look forward to having you.