Whether you've forgotten something vital at home or you're looking for something to do during a rainy day, shopping is a great option all year! The Finger Lakes is home to some fantastic malls scattered all over the region. Check out three of our picks for the best places to go shopping in the Finger Lakes.



Where to Go Shopping in the Finger Lakes
If You're Staying Near Hammondsport, Visit…
Wild Goose Chase Antiques
Visitors who enjoy perusing shelves to find hidden treasures will love visiting Wild Goose Chase Antiques! Located in Hammondsport and overlooking Keuka Lake, this small antique shop maintains an outstanding inventory. They carry items from seven different dealers and are very selective with what they choose to stock. You could easily spend an afternoon browsing through the store. If the weather is nice, Wild Goose Chase Antiques invites its guests to bring a picnic lunch to enjoy in the beautiful views from their yard. If you're staying near Keuka Lake, this is a great place to visit!
The Windmill Farm & Craft Market
The first and friendliest farm and craft market in Upstate NY! You'll have to stop in on Saturday to shop nearly 200 local producers and craftsmen. Treat mom to lunch in their mini pine tree forest!
Browsers on Keuka Lake
While you're in Hammondsport, swing by Browsers. It's in the heart of the town's historic Village Square and has been selling local goods, games, puzzles, and other fun items for over 30 years. This is an excellent store to find gifts for loved ones back home or souvenirs to remind you of your trip to the Finger Lakes. There's also an array of books by local authors so that you can get a real look into history and present-day life for residents of the Finger Lakes. The selection is always changing, so this is a fantastic stop to visiting year after year.
If You're Staying Near Ithaca, Visit…
The Jewelbox
Well-crafted jewelry is far more than just an accessory to wear. It's a piece of art that can last a lifetime. The Jewelbox takes its craft very seriously, priding itself on offering pieces that meet their strict standards. Their customer service is also fantastic. Whether you're buying for yourself or a loved one, you'll leave The Jewelbox feeling confident in your purchase. That's probably why this business has been so popular for over 40 years!
Sunny Days of Ithaca
If you just want to visit one shop during your stay in the Finger Lakes, Sunny Days of Ithaca is a wonderful option. They offer an awesome inventory of locally sourced products, from books to food to bath and body. You can preview a small chunk of their products on their site, but there's so much more to find in person.
The Ithaca Commons
This four-block, pedestrian-only district in Downtown Ithaca offers a unique and multi-cultural shopping experience. Home to popular festivals, annual events, street art, award-winning restaurants, and shops that are far from mainstream, you'll love spending the day in the eclectic heart of the city!
Mackenzie-Childs
Even if you've been been to Aurora, NY, you've probably seen their signature courtly check! MacKenzie-Childs crafts world-renowned home furnishings and ceramics on a tranquil farm overlooking Cayuga Lake. Schedule a tour of the grounds and shop their colorful, handmade goods – a day here is sure to spark joy for mom!
Best Wineries for Shopping
These tastings rooms sell far more than wine! Sip while you shop for hidden treasures and wine related gifts. We recommend:
Looking to Gift an Experience
We suggest a stay in one our luxury, lakeside vacation rentals and treating mom to one or all of these amazing Finger Lakes experiences during your stay:
Stay With Finger Lakes Premier Properties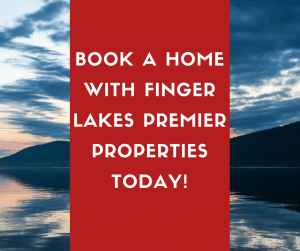 Are you ready to enjoy some quality Finger Lakes shopping? The first step is booking a home with Finger Lakes Premier Properties! We have an outstanding selection of rentals near seven of the 11 lakes in the region. Our wide inventory means that you'll have no trouble finding a house that meets all of your needs. From pet-friendly rentals to luxurious estates, we have it all!

Check our full selection of homes and book today! We look forward to having you.