Experience a town full of arts, sciences, and natural wonders just south of Cayuga Lake. Here's are some great things to do in Ithaca during your Finger Lakes vacation. This small lakeside town has the vibe of a quiet college town with some of the most gorgeous parks in the state.
Before we let you in on all of our best-kept secrets, take a look at our free Vacation Guide. It includes the best restaurants, attractions, outdoor recreation, and entertainment in all of the Finger Lakes region of New York.

Trendy Things to Do in Ithaca
Explore Downtown Ithaca Commons
If you're looking to spend a day in Ithaca, Ithaca Commons is a great place to visit. The award-winning section of downtown has just about everything! From breweries to restaurants to museums, it's not hard to find something everyone in your group likes.
For the Foodies
Discover six unique restaurants at Ithaca Commons by going on the Downtown Ithaca Food Tour! You can also choose vegan, vegetarian, and gluten-free options.
Fill up on mouth-watering samples while an expert shares information about the history and culture of Ithaca, New York!
Not only will you be introduced to the best food in town, but you can also discover the historical and architectural sites of Ithaca. Public tours are available between May and November, and private tours are available year-round.
For the Arts and Culture Expert
Head over to Cinemapolis to enjoy fascinating films of all types. You can see film festival entries as well as international movies and classics! If you're into comic books, you can make a stop by Comics for Collectors.
Then, let your inner Picasso shine, and paint a masterpiece in a Wine & Design class!
Explore Cascadilla Gorge Trail and Ithaca Falls
Downtown Ithaca contains more than just buildings. You can also go on a short hike! Take the beautiful Cascadilla Gorge Trail from downtown to Cornell University, where you can find numerous attractions that are open to the public.
Ithaca Falls is just a two-minute drive from the campus. If you only have time to visit one of the city's waterfalls, this is the one you should choose. The falls stretch up to 150 feet, and this natural area is considered one of the best places for fly fishing.
Cornell University
Cornell Botanical Gardens
This botanical garden is right next to the Cornell University campus. Start in the Nevin Welcome Center, and then make your way to the botanical garden and natural areas. The university has more than 3,600 acres of biologically diverse landscapes to explore! It's a great way to check out the wildlife and ecosystems of the Finger Lakes.
Another great way to learn about Finger Lakes wildlife is at the Cornell Lab of Ornithology. Here, you can check out science and art exhibits in the Visitor Center, or explore the 230-acre sanctuary to learn all about the local birds.
Andrew Dickson White Library
Another great place to visit on campus that won't cost you a dime is the Andrew Dickson White Library. This is a slice of heaven for any bibliophile. This library features the original collection of books of Cornell University's first president, as well as art and furniture left to the institution after White's death. The design of the library itself is something to gawk at, with ornate cast-iron railings on the walkways and bookcases and rich red carpeting. It's both modern and antique and is definitely worth the visit.
More Ithaca Attractions to See
Relax in a Gorgeous Lake House in the Finger Lakes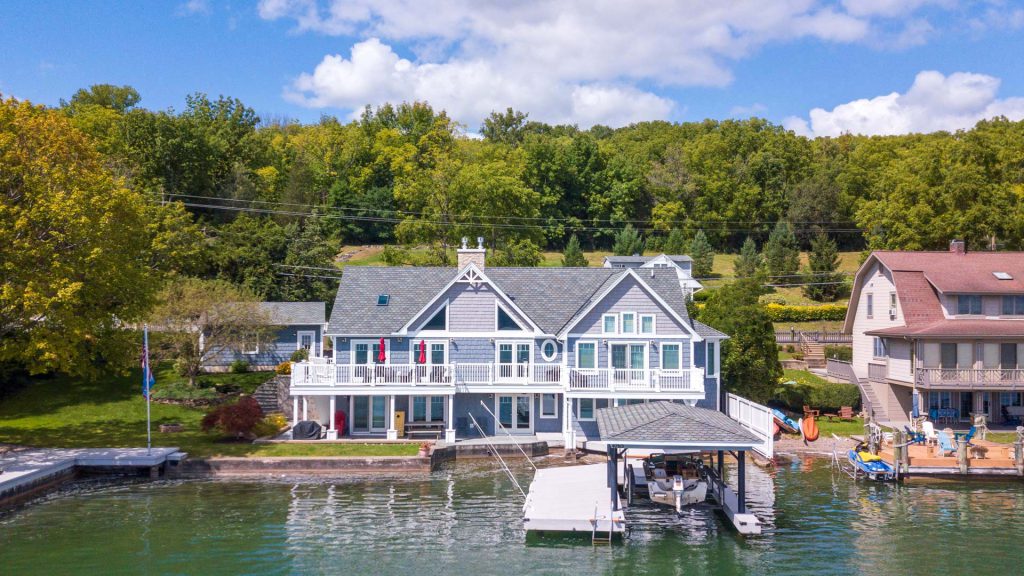 Complete your Finger Lakes vacation by staying in a luxury vacation home by the water. Our accommodations are conveniently located near several of the Finger Lakes. Plus, they are close to the best attractions in the region. Find gorgeous homes on Canandaigua Lake, Cayuga Lake, Conesus Lake, Honeoye Lake, Keuka Lake, or Seneca Lake. You can enjoy fantastic amenities, including private decks, fire pits, boat docks, and kayaks. Make your vacation a memorable one when you book a vacation rental with Finger Lakes Premier Properties. Check our availability and book your getaway today!