With gorgeous gorge trails, waterfall hikes, and state parks, it's no wonder that hiking is such a popular activity in the Finger Lakes region. If you only have time to visit one of the local parks, make it the Finger Lakes National Forest! Located between Seneca and Cayuga Lake, this park features over 30 miles of interconnecting trails. Find out everything you need to know to have an awesome day at this iconic site.
The Finger Lakes National Forest is just one of the many fantastic state parks in this region. Discover the full list when you download our free Vacation Guide. No matter which lake you're staying near, you'll find something wonderful to enjoy during your Finger Lakes trip. Aside from hiking trails and natural features, our Vacation Guide lists incredible restaurants, wineries, museums, historic sites, and so much more! Let our Vacation Guide help you plan the trip of a lifetime. Download it today to get started.
Visit the Finger Lakes National Forest
So what makes the Finger Lakes National Forest so special? For one, it's the only National Forest in the state of New York. It's also home to some of the most diverse and beautiful trails in the region. From gorges and ravines to pastures and woodlands, there's a little bit of every type of nature here. You may even see cows grazing while you hike through the pastures, as the National Forest sometimes rents land to local farms.
Hike the Loops
There is a total of 10 trails in the Finger Lakes National Forest, with four loop hikes. The "loop hikes" are a great option for visitors who want to see a little bit of everything during their visit.
Burnt Hill Loop
The Burnt Hill Loop features a little bit of everything. If you're hoping to see some cows during your visit, this is the trail for you. The Burnt Hill Loop stretches out almost four miles and winds through two cow pastures. Be sure to securely close any gates behind you to prevent any runaway cows. While this loop is lengthy, it's a pretty easy, flat hike. It typically takes around two hours to complete.
Southside Loop
If you'd prefer a shorter hike, find the Southside Loop. This path combines three of the trails and is only around two miles long. Like the Burnt Hill Loop, you won't find any steep hills during this loop. You will pass by a couple of gorgeous natural features, like a small pond and a field with wildflowers.
Stay at Finger Lakes Premier Properties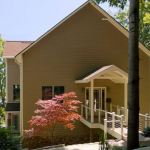 After a day of hiking the Finger Lakes National Forest, return to a gorgeous rental from Finger Lakes Premier Properties! You won't find a better selection of homes anywhere else in the region. Consider booking The Lily Pad, a stunning four-bedroom, four-bathroom rental located near Cayuga Lake. With gorgeous views, beautiful decor, and comfortable furnishings, you're sure to have a wonderful rest here.
Check the rest of our accommodations and book today! We look forward to having you.