When traveling, it's not always just about the destination. It's also about the journey. The Finger Lakes region offers some of the most incredible drives. From the rolling hills surrounding the area to the pristine lakes, there's plenty to enjoy during your tour of Upstate New York.
So take some time during your stay and enjoy these incredible Finger Lakes scenic drives! Looking for more things to do while you are here? Check out our Vacation Guide for inspiration on the best places to eat, things to do, and sights to see in the Finger Lakes.
The Best Finger Lakes Scenic Drives
While there are fantastic routes that feature gorgeous views around each of the 11 Finger Lakes, the roads around Cayuga, Seneca, and Canandaigua Lake are three of the most popular.
Cayuga Lake Scenic Byway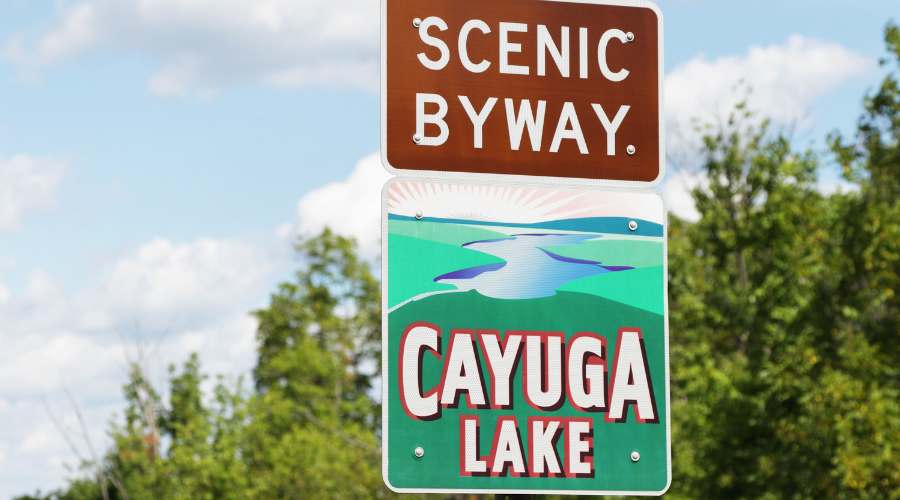 One of the most famous sights is the Cayuga Lake Scenic Byway. With stunning views of Cayuga Lake and plenty of fun attractions to visit along the path, there's a good reason why this is such a favored route. The Cayuga Lake Scenic Byway website is a fantastic resource for planning your drive. It has an interactive map that can help you plan your route and find great byway destinations and a list of featured stops that are a must for any visitor to the area. Of course, if you're looking for more recommendations in the region, we are more than happy to suggest some fantastic places to visit around Cayuga Lake!
County Road 12 Scenic Overlook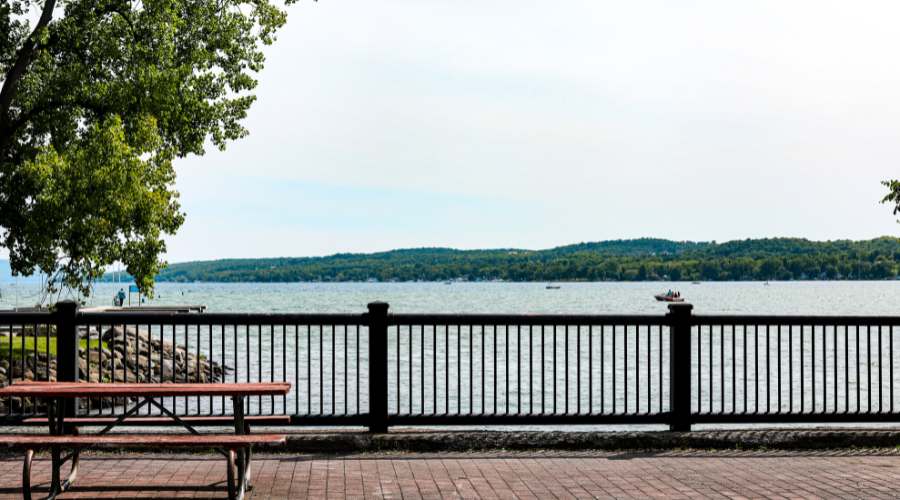 If you're staying around the south end of Canandaigua Lake, be sure to drive to County Road 12 Scenic Overlook in South Bristol, NY. This spot, also called the Canandaigua Lake Overlook, is a fantastic year-round destination thanks to the exquisite view of the water. Pack a picnic lunch and enjoy the winding roads of the hills around the Village of Naples, one of the towns you'll drive through to get to the overlook.
Drive Along Route 14S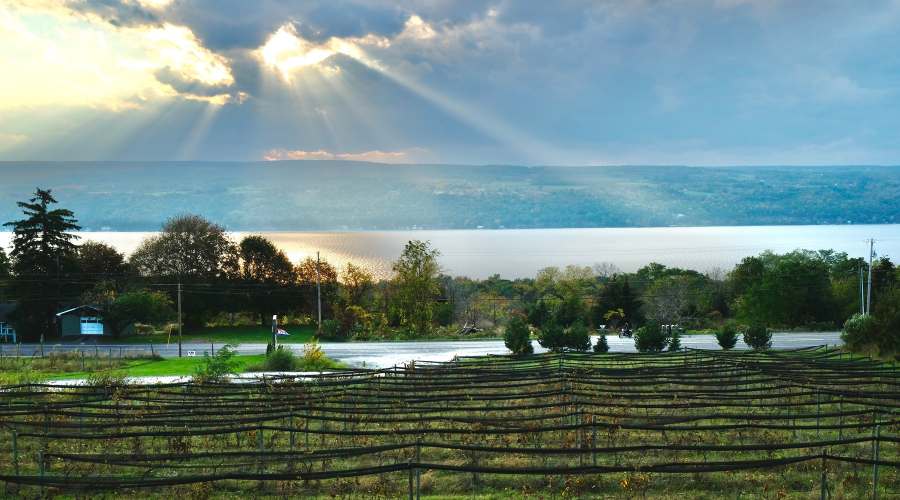 There are a couple of good options when it comes to scenic drives along Seneca Lake. Route 414 along the lake is one of the favorites, with plenty of Seneca Lake Wine Trail wineries on the way. There's nothing quite like seeing the lush vineyards rushing by one the road. Another fun road is Route 14S, which follows Seneca Lake. Again, this drive is right in the midst of the Seneca Lake Wine Trail and will take you to Watkins Glen State Park, which is one of the gorgeous views in the area.
Stay with Finger Lakes Premier Properties
During your Finger Lakes vacation, stay in the most luxurious waterfront homes. Finger Lakes Premier Properties has the best selection of houses on seven of the lakes. With 24/7 customer service, mid-week cleaning available, and bed linens and towels provided in each home, you can feel confident that your stay in a Finger Lakes Premier Properties rental will be smooth.
Browse through our selection of vacation packages to enhance your stay. We've made it easy for you to plan fun outings, like hot air balloon rides or kayak tours. If you'd prefer to have a more relaxing experience, consider booking one of the available spa packages or limo tours.
Browse our entire catalog of homes and book today. We look forward to having you.