Nothing beats a night at the theater! Whether you're looking for a family-friendly activity or you're planning a quiet date night with your loved one, there is always a good reason to see a live performance. The Finger Lakes is home to many different types of theaters, from modern to musical. During your vacation, why not enjoy a night of spectacle and splendor? Discover the best Finger Lakes theatres and what kind of show you might in each.
If you're searching for the perfect restaurant to visit before curtain-up, download our free Vacation Guide!
Visit These Finger Lakes Theaters
Merry Go Round Theater
Commonly called "Broadway in the Finger Lakes," the Merry Go Round Theater is known for its extravagant productions and quirky performances. It's the largest theater of its kind in the region, and mainly musicals. You'll see everything from huge hits like Mamma Mia to lesser-known works. They also produce the Finger Lakes Musical Theatre Festival, a summer-long series that showcases the best talent in the region. Its most well-known for The PiTCH, which showcases new works in early stages of development. If you're a hardcore theater fan, this is a must!
Hangar Theater
Another popular performance hall in the area is Hangar Theatre. Located in Ithaca, this company produces a wide range of plays and musicals. You'll find experimental works like at the Merry Go Round, but you'll also find options for children, art exhibits, and stand-up comedy. It's named for its location, which is inside a renovated airplane hangar, which only adds to the quirky likability of this location.
Clemens Center
A more traditional performing arts center, Clemens Center hosts touring productions of musicals in their Broadway series, as well as comedians, musicians, and kid-friendly shows. If you're staying near Seneca Lake, check out the calendar of events and see if there are any that pique your interests!
Bristol Valley Theater
The Bristol Valley Theater is modeled after a traditional community theater, with local performers and classes provided at the center. It's located south of Canandaigua Lake and offers a handful of shows every summer season. Another option is Camp Dramapalooza, a week-long camp for young thespians! The weeks are divided by age group, so if you plan on traveling to the Finger Lakes in the summer, keep an eye out for the next round of dates and sign up your little ones!
Stay with Finger Lakes Premier Properties
After your night at one of these great Finger Lakes theaters, return to a gorgeous lakefront vacation rental! Finger Lakes Premier Properties has the best selection of homes in the region, from luxury rentals to pet-friendly accommodations.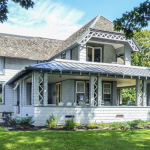 If you plan on attending a show at the Merry Go Round Theater, book Evergreen Place for your getaway! This five-bedroom, four-bathroom property is just a five-minute walk from the playhouse. This historic property, built in 1884, was one of the original homesteads on the north end of the lake. Today, it's been outfitted with modern amenities and comfortable furnishings.
Take a look at our full selection of homes and book today! We look forward to having you.