There is so much beauty to discover during your stay in the Finger Lakes region! From hiking trails along the Finger Lakes gorge to kayaking trips, there are plenty of opportunities to explore and enjoy. It's no wonder one of the favorite local activities is hiking! Discover our favorite parks where you can find some of the best Finger Lakes waterfalls!
We've listed a couple of our favorite NY state parks with waterfalls, but there's so much more to enjoy during your stay. Download our free Vacation Guide for a full list of the best state parks, hiking trails, watersport rentals, restaurants, and FLX attractions in the area. Find out for yourself why the Finger Lakes region of New York is the best place for your lake vacation.



Visit the Best Finger Lakes Waterfalls
Taughannock Falls State Park
Enjoy over five miles of Finger Lakes trails when you visit the waterfall at Taughannock Falls State Park. Aside from having the biggest gorge in Ithaca, NY, the Taughannock waterfall is the tallest in New York State.
You'll be able to get the best views from the park's rim trails, specifically the North Rim Trail and the Gorge Trail. The North Rim Trail is over a mile long and follows the gorge's northern rim. This path leads to the main falls overlook.
The Gorge Trail is very easy and is less than one mile long. It leads to a viewing area at the base of the main waterfall and is open all year-round.
2. Cascadilla Gorge Trail
If you're in town to visit Cornell University, make sure to take advantage of the gorgeous Cascadilla Gorge Trail. This famous path, which you can access from downtown Ithaca, has been impeccably restored and preserved, making it one of the easier trails to hike. In total, the trail runs just over one mile and features eight stunning waterfalls.
3. Watkins Glen State Park
A blog about Finger Lakes waterfalls isn't complete without featuring Watkins Glen State Park! In total, this site features 19 waterfalls. Wind through beautiful stone staircases, bridges, and tunnels while hiking the waterfall trails. If you only have time to visit one of these sites, be sure to see the Watkins Glen waterfalls!
More Finger Lakes Waterfalls to Check Out
4. Grimes Glen Park: You can see two amazing 60-foot falls in this park.
5. Letchworth State Park: This is known as the "Grand Canyon of the East," and it's no wonder why! You must see it for yourself!
6. Robert H. Treman State Park: Admire the 115-foot Lucifer Falls along with 11 other stunning waterfalls.
7. Fillmore Glen State Park: Check out Fillmore Glen State Park's fascinating geological formations!
8. Buttermilk Falls State Park: Find out how Buttermilk Falls got its name when you see the flowing and foaming cascade as it flows towards Cayuga Lake.
Stay with Finger Lakes Premier Properties
There's nothing better after a day of visiting Finger Lakes waterfalls than returning to a gorgeous vacation home. When you book with Finger Lakes Premier Properties, you can rest assured that you'll be staying in luxurious accommodations with 24/7 customer service.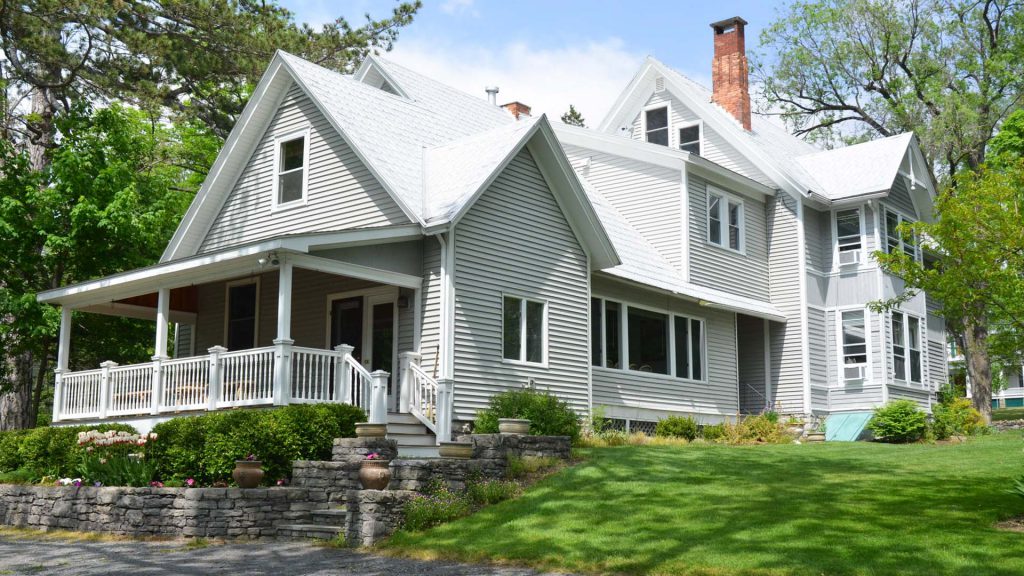 Consider booking Aurora Escape, a beautiful seven-bedroom, five-bathroom estate that is on the east side of Cayuga Lake. With Aurora Escape, you'll be able to enjoy the proximity to Ithaca, NY, and the many wonderful nearby attractions while also resting peacefully with the quiet serenity of this lakeside retreat. This is a fantastic home for vacations with extended family or reunions with friends!
Take a look at our full selection of homes and book today! We look forward to having you!