Enjoy world-class wineries, fun events, and plenty of gorgeous scenic views when you explore the Keuka Lake Wine Trail! The smallest of the trails in the Finger Lakes Wine Region, this route features five outstanding family-owned wineries. Learn about the businesses on this path and discover where to book a gorgeous vacation rental for your Finger Lakes getaway!



Tour the Keuka Lake Wine Trail

The Keuka Lake Wine Trail is the smallest of the Finger Lakes Trails. When compared to the Seneca Lake Wine Trail (which boasts a whopping 35 wineries) or Cayuga Lake Wine Trail (with 16 members), Keuka Lake has only five wineries. However, the trail's small size means that it's more manageable for guests to explore the entire route in just one day. In regards to driving time, it only takes about an hour to drive to every location. That means that you'll have plenty of time to visit each winery and enjoy samples or an entire glass of wine.

The wineries on the trail have been in business for an average of 25 years, and have been awarded some of the most sought-after prizes in the industry. Best of all, these wineries are mostly family-owned-and-operated, so you'll be supporting a piece of Keuka history! Preview the five wineries below:

Heron Hill Winery

Since 1977, Heron Hill Winery has been recognized as one of the premier producers of Rieslings in the region. Heron Hill has taken this flagship varietal and perfected it, earning recognition as one of the best tasting rooms in the world from Travel + Leisure Magazine! On the grounds at their Keuka location, you'll find their tasting room and the Blue Heron Cafe, which is open in the warmer months. Stop by their gift shop while you're there to pick up a unique souvenir and be sure to check their calendar of events, so you don't miss out on any of the fun!

Hunt Country Vineyards

Hunt Country Vineyards is the perfect example of old meeting new on the Finger Lakes. The winery has been in the farming business for seven generations, always remaining on the cutting edge of new and innovative technology. Currently, they have a 348-panel solar system providing most of the farm's electricity, as well as a geothermal heating and cooling system. They even have five electric vehicle chargers for their customers! During your visit, head to The Cafe to enjoy a nice glass of Hunt Country wine and a delicious meal. Tours of the vineyard are available twice a day on Saturday and Sunday from Memorial Day to Labor Day. They also offer three different types of tastings: a standard tasting, an ice wine tasting, and a chocolate and wine pairing.

Keuka Spring Vineyards

Keuka Springs Vineyards is the perfect example of a passion turning into a lucrative venture! In the late 1980s, Judy and Len Wiltberger transformed their love of wine into a family-operated vineyard and winery. Today, this award-winning winery is still run by Len and Judy, as well as their children. Their tasting room overlooks the east side of Keuka Lake, giving guests a stunning view of this gorgeous body of water. There's nothing more relaxing than sipping a delicious glass of chilled wine with the warm sun reflecting off the calm surface of Keuka Lake.

McGregor Vineyard

Visit a piece of winemaking history! McGregor Vineyard first started in 1971, making it one of the oldest vinifera grape growers. The winery was founded 10 years after and has remained one of the businesses on the forefront of vinifera wines. Visit the tasting room and sample their Black Russian Red blend, a combination of Saperavi and Sereksiya Charni. This unique product is a favorite among locals and a must for any first-time visitor to the area!

Vineyard View Winery

Like many of the other establishments on this list, Vineyard View Winery is all about family and creating an exceptional product. You're sure to enjoy the relaxed atmosphere and refined wines. They offer a wine tasting, which is just $5 for five wines, or pre-selected flights. If you're hungry, order a boxed lunch, which is provided by Flour Shop.

Attend an Event Hosted by the Keuka Lake Wine Trail

Wine & Cheese Getaway

If you're looking for a romantic getaway, book your tickets to Keuka Lake for mid-February! This event showcases local cheeses and the best wines from the Keuka Lake region. Tickets to this event always sell out fast, so be sure to plan ahead.

Tapas & Wine Weekend

Is your favorite part of any meal is the appetizer? Then this is the event for you! Each winery along the trail will prepare a selection of small bites, from the sweet to the savory, which pairs perfectly with their varietals. You'll come away from the event with some new recipes to try and maybe even your new favorite wine.

Keuka in Bloom

Celebrate spring with Keuka in Bloom! Each of the member wineries will offer a sample of their wines along with an appetizer inspired by herbs. You'll also receive an herb and flower from each winery, ready to plant!

Wine Wednesdays

We love Wednesdays in the summer! Wine Wednesday, which takes place in July and August, welcomes a new special event each week. Spend a warm evening near Keuka Lake this summer!

Fire it Up! BBQ Weekend

If you think that beer is more suited to barbecue, attend the Fire it Up! BBQ Weekend and prepare to have your mind changed. This early June event pairs grilled foods with wine. There are few better ways to spend an afternoon!

Harvest Celebration

Say goodbye to summer with the Harvest Celebration. The harvest is one of the most exciting times of the year in wine country, and there's no better way for you to get to know our beautiful region.

Keuka Holidays

Book your tickets early for Keuka Holidays! This event is the perfect time to go shopping for the wine-lover in your life. You'll sample some hearty winter dishes and receive a seasonal gift at each of the locations.

Book a Home With Finger Lakes Premier Properties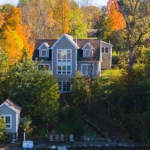 After your day of exploring the Keuka Lake Wine Trail, return to a beautiful rental home from Finger Lakes Premier Properties! We offer the best selection the region, with houses situated on the edge of seven of the 11 lakes. Consider booking Stone Crest, a three-story, six-bedroom, four-bathroom home that redefines luxury. You and your family will love relaxing in front of the gas fireplace or enjoying the view from any of the private balconies. Best of all, this home is less than a mile from Keuka Springs Vineyards!

Check out the rest of our homes and book today. We look forward to having you.