Don't start planning your trip to Keuka Lake without reading this first! With so much to do and see around the Finger Lakes region, narrowing down your itinerary can seem impossible. That's why we've listed some of our favorite things to do around Keuka Lake. Before you know it, you'll have everything you need to plan the trip of a lifetime. For even more great information about this stunning region, download our free Vacation Guide!
Things to do Around Keuka Lake
Tour the Keuka Lake Wine Trail
Keuka Lake is home to a world-class wine trail. While not the longest-running or largest trail, it is home to the first bonded winery, established in 1860. This beautiful lake was also home to the first Vinifera vines, for which our region is best known. There are eight members of this trail, including five wineries. That means that visiting each of the members on the wine trail is very feasible! If you're organizing your own wine tour, check out our available packages. We can arrange a limo tour that'll get you going in style!
Enjoy the Best Hiking Near Keuka Lake
If you're looking forward to traversing the Keuka Lake area on foot, you're in luck! There are some excellent opportunities for hiking nearby. A very popular spot for hiking (as well as other outdoor recreation) is Keuka Lake State Park. This beautiful stretch of land features a swimming beach, boat launch ramp, picnic shelter, as well as several miles of hiking trails. It's also a hotspot for hunting and fishing, as well as cross-country skiing during the winter.
For a unique experience, head to the Keuka Lake Outlet Trail. This was one of the very first "rail trails" and is owned and meticulously maintained by a local non-profit, The Friends on the Outlet. In total, the path is seven miles long and follows the former track bed of the Fall Brook Railroad. It's a fantastic place for bicycling, horseback riding, snowshoeing, or Nordic skiing. If you're traveling with your animals, it's also good for a gentle walk with your dog! The trail is open to the public sunrise to sunset.
Visit the Local Museums
This particular area the Finger Lakes is home to some excellent museums! The first is the Glenn H. Curtiss Museum in Hammondsport, just south of Keuka Lake. It honors the aviator and pioneer who was once given the title of "Fastest Man on Earth." The museum details everything from Curtiss's legacy as an icon in aviation to the role of women in the field. You'll even find exhibits on the history of Hammondsport and even winemaking in the Finger Lakes!
Just a short distance from the Glenn H. Curtiss Museum is the Finger Lakes Boating Museum. What started as a small project for antique boating enthusiasts quickly morphed into one of the best museums in the Finger Lakes. It's dedicated to preserving the heritage of boating in the region, as well as showcasing the dramatic impact it's had on developing the Finger Lakes.
If you only have time to go to one museum during your stay, make it the Finger Lakes Museum & Aquarium. Located north of Keuka Lake, this family-friendly attraction celebrates the 11 lakes and all of the wonderful things found in this area. It focuses on more than just history or natural features. It teaches visitors about the many ways we can all work together to preserve the land and the waters. If you get a chance, attend one of their programs or special events. From volunteer clean-up days to festivals, you'll feel good about the time you spent at the Finger Lakes Museum & Aquarium!
Enjoy an Afternoon of Fishing
Keuka Lake is known for having some of the best fishing in the region. It has the healthiest population of lake trout, brown trout, largemouth bass, and other native species of fish of all the lakes. Fishing is a year-round activity here. In the summer, there's nothing more relaxing than sitting in a boat with the warm sun beaming on you and a cold drink in your hand. One of the most popular winter activities in the Finger Lakes is ice fishing, for which Keuka Lake is also well-suited.
Stay at Finger Lakes Premier Properties
Are you ready to have the vacation of a lifetime? It all starts when you book a home from Finger Lakes Premier Properties. You won't have any trouble finding things to do around Keuka Lake when you browse through our selection of over 100 surrounding properties. No matter the size of your party or the reason for your visit, you'll find the perfect home in our inventory of rentals!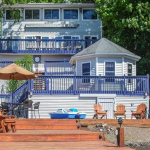 Consider booking Summer Memories, a wonderful seven-bedroom, six-bathroom lakehouse. This luxurious property has high vaulted ceilings with skylights (for beautiful natural light), a fully-equipped kitchen, and a stunning view of the lake! Enjoy taking your meals on the sun porch, which features a dining table for 14 guests. Or (if you're visiting in the summer), take the paddleboat out for a day on the lake! Guests in the winter months will appreciate snuggling by the on-site fire pit.
Take a look at our full selection of homes and book today! We look forward to having you.