A question that we get a lot from people unfamiliar with the Finger Lakes region is "Which lake is the best?" There's no easy answer. Each of these gorgeous lakes has its own unique vibe, with their own special attractions and must-see spots. It's easier to feature one lake on its own and fully explain just why it's a great candidate as a destination for your next vacation. The first on our list is Cayuga Lake, the longest of the glacier Finger Lakes and a favorite of locals and visitors alike. Discover some of our favorite Cayuga Lake attractions, as well as where to find the best selection of rental homes around! For even more fun things to do around the Finger Lakes, download our free Vacation Guide.
Don't Miss out on These Cayuga Lake Attractions
Explore the Cayuga Lake Wine Trail
When you tour the Cayuga Lake Wine Trail, you're not just visiting some of the best vineyards and winemakers in the country. You're actually seeing part of history! It may surprise you to learn that this was the first organized and longest-running wine trail in the United States. First established in 1983, it features 16 wineries in total, each of which is dog-friendly! The list also includes cideries, a meadery, four distilleries, and a taproom. We're not kidding when we say that there's something for everyone. A couple of the highlights of the route include Americana Vineyards, which sells local beers, award-winning wines, and homemade fudge in their taproom. While you're there, enjoy a meal at the onsite Crystal Lake Cafe, which uses local meats, cheeses, and vegetables to create their menu of from-scratch meals.
Visit Ithaca, NY
Home to Ithaca College and Cornell University, Ithaca combines the atmosphere of a quiet university town with world-class attractions. Aside from the fantastic restaurants and wineries, Ithaca is also home to one of the best theaters in the Finger Lakes. If you're searching for the perfect date night, a show at the Hangar Theater is the way to go! There are also some awesome museums in Ithaca, like the Museum of the Earth (which also includes the Cayuga Nature Center) or the Herbert F. Johnson Museum of Art.  
Book a Tour of Cayuga Lake
There's no better way to experience the Finger Lakes than with a boat or sightseeing tour! There are three excellent options for tour companies. The first, Ithaca Boat Tours, offers some of the premier Cayuga Lake boat cruises in the spring, summer, and fall seasons. From picnic lunches on the water to leaf peeping trips, you'll find endless ways to enjoy an afternoon. Discover Cayuga Lake is another awesome resource. They offer cruises from May to October, including their educational Tour With a Mission. These rides educate visitors about the Finger Lakes and on good environmental practices. Finally, Experience Finger Lakes offers sightseeing rides, wine tours, and other special events that are sure to enhance anyone's visit to the region.
Visit the Nearby State Parks
Upstate New York is known for having a number of lush, beautiful state parks and the surrounding Cayuga Lake region is no exception. There are three beautiful nearby sites: Cayuga State Park, Taughannock Falls State Park, and Buttermilk Falls State Park.
Cayuga Lake State Park offers one of the best views of the water and is known as a fantastic spot for fishing. Visitors and locals love to cast their line from the shores or off the side of a boat and catch the many species of fish that live in the waters. In the shallower reaches of the lake, you might find largemouth bass or carp. As you get deeper, you can catch landlocked salmon, northern pike, or lake trout. The park also features a playground, picnic table, and a swimming beach for summertime visitors.
Taughannock Falls State Park, located on the west side of the lake, offers gorgeous hiking paths, including some of the best Finger Lakes gorge trails. It's also home to the highest single-drop waterfall east of the Rocky Mountains, making it an excellent attraction for guests hoping to see one of the famous Finger Lakes waterfalls. Visitors can also rent canoes, kayaks, paddleboards, or paddleboats for summertime visitors. In the colder months, locals love heading to the park for the snowshoeing opportunities.
Finally, Buttermilk Falls State Park is known as one of the most scenic parks in the state. It's open year-round, though it's known for having excellent beaches for swimming in the summertime. There are a total of five miles of interconnected hiking routes, ranging from very easy to challenging. The most popular of these is the Gorge Trail, which leads up past the rushing falls of the park, up the park's famous stone staircase, to a one-of-a-kind view of the park that is not to be missed.
Stay in a Home From Finger Lakes Premier Properties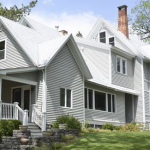 Beyond finding the best Cayuga Lake attractions to visit, the most important part of planning your visit to the Finger Lakes is finding the perfect accommodations. Luckily, Finger Lakes Premier Properties has the best selection of rentals in the region. Our homes border seven of the 11 Finger Lakes, including a wide inventory of properties near Cayuga Lake.
Consider booking Aurora Escape, our six-bedroom, five-bathroom lakeside property. This home, nestled on the east side of the lake, is perfect for family reunions or week-long getaways with a large group of friends. There are a total of three kitchens in the home, as well as a cozy library with a flat-screen HD television, a formal dining room, and spacious bedrooms. There are also plenty of amenities to keep guests occupied. Consider walking down to the dock, where you can enjoy an afternoon using the available paddleboards, kayaks, or canoes. Life jackets are also provided. Or consider exploring the nearby town of Aurora, which is home to top-notch restaurants and quaint shops.
Take a look at our full selection of rental homes and book today. We look forward to having you.